Essex County: Jeff Lemire Series Adapt Reveals Cast, First Look Image
So the last time we checked in on how things were going with the upcoming series adaptation of Jeff Lemire's (Sweet Tooth; Black Hammer; Secret Path) graphic novel Essex County, it was January 2021, and Lemire offered an update that he had "been working on scripts for the third and fourth episodes" of the series, with "the bulk of the scripts written." Well, let's just say that a lot has changed in a little more than a year and a half because production officially wrapped at the end of September, and now we have some casting news to pass along. Molly Parker, Brian J. Smith, Stephen McHattie, Finlay Wojtak-Hissong, and Kevin Durand will lead the limited series cast. Exploring how loss, betrayal, and trauma can impact generations and how redemption can be found through human connection, the series spotlights the intertwining lives of two families living in a rural community. CBC's Essex County is written by Lemire and Eilis Kirwan (The Whistleblower; Nurses) and directed by Emmy-winner Andrew Cividino (Schitt's Creek, Sleeping Giant). CBC and CBC Gem will premiere the series in Winter 2023, with ITV Studios & Media Musketeer Studios set to launch the show internationally at MIPCOM. Now, here's an official first-look image from the series as well as an overview of what viewers can expect: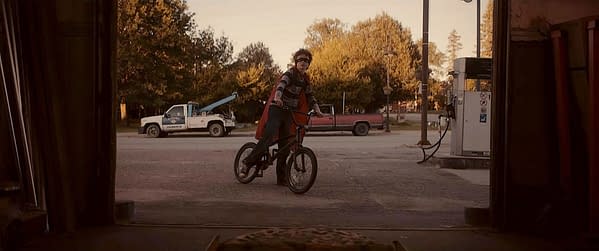 Despite the appearance of a close-knit community, many of the Essex County residents are isolated and lonely. Eleven-year-old Lester (Wojtak-Hissong) has moved in with his uncle Ken (Smith) after the death of his mother. Ken, a stoic farmer, must contend with his own grief and fears while raising Lester, even as Lester looks for a father in Jimmy (Durand) – a man who can barely take care of himself. Anne (Parker) is a nurse and mother who, after a lifetime of caring for others, finds herself at a crossroads when her daughter leaves for university. When Anne takes over the care of her estranged uncle, Lou (McHattie), who is suffering from worsening dementia and the ghosts of his past, she begins to unearth family secrets. It is through Lou and Lester that the viewer enters a world of magic realism – Lou's present begins to merge with his past, and he literally haunts his own memories; Lester escapes into his imaginary world as he struggles to overcome his crushing grief.