"Fear the Walking Dead" Season 5, Episode 4 "Skidmark": Strong Outing Deepens Conspiracy [SPOILER REVIEW]
Last week's episode of AMC's Fear the Walking Dead saw Dorie (Garret Dillahunt) and June (Jenna Elfman) forced to hide out in an old stunt show western town – where Dorie showed us what "The San Antonio Split" was all about (get your minds out of the gutter). Dwight (Austin Amelio) finally made his appearance known and proved a pretty impressive sidekick for Dorie (maybe "Daryl 2.0"?) – his presence already proved to be a major boost to the show… though we're still not quite sure Morgan (Lennie James) feels the same. The mystery behind the walker roadblocks deepened. Are they related to Althea's disappearance and those Rick Grimes helicopters, or to Grace's (Karen David) "atomic walkers" – or both? Meanwhile, Alicia (Alycia Debnam-Carey) and Luciana (Danay Garcia) were joined by Morgan and the others – only to find a bloodied Dylan (Cooper Dodson) and more questions.
But it looks like Max (Ethan Suess) and Annie (Bailey Gavulic) have some questions, too…
So aside from the adorable kitten (kill it and we riot… remember…), did this week's episode "Skidmark" keep the season barreling along – or did it skid off into a ditch? Let's take a look… MAJOR SPOILERS AHEAD!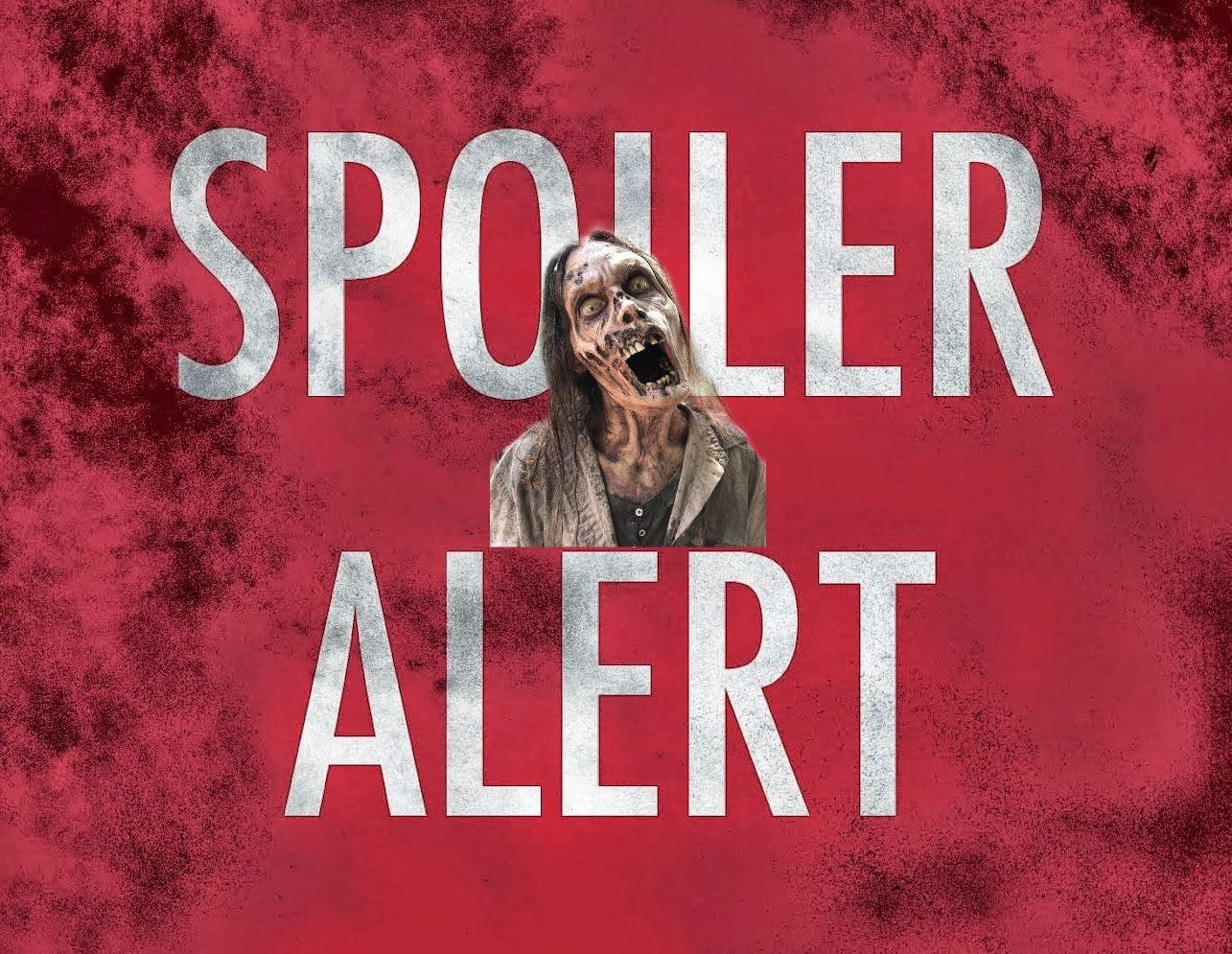 ● OPENING CREDITS SEQUENCE ALERT: Clearer skies, with lightly moving clouds. Flatbed truck in a field, with a plane on the back the propellors running.
● The opening sequence of the solitary life that Daniel leads was a heartbreaking one, even for a man with his past. We're already big fans of Skidmark (even with that little screw-up later in the episode), and we're hoping for a Skidmark-Dog, FTWD/TWD crossover in the near future. Also, I'm having a ton of respect for Charlie's (Alexa Nisenson) game – her time with the Vultures is going to prove to be a righteously huge bonus for the team, and her exchanges with Daniel had a wonderful father-daughter dynamic to them.
● The above scene perfectly illustrated the Daniel-Strand dynamic, but it loses points for Strand not seeing that coming. Ummm… Strand? You shot and left him for dead – he's naturally going to be a little paranoid around you.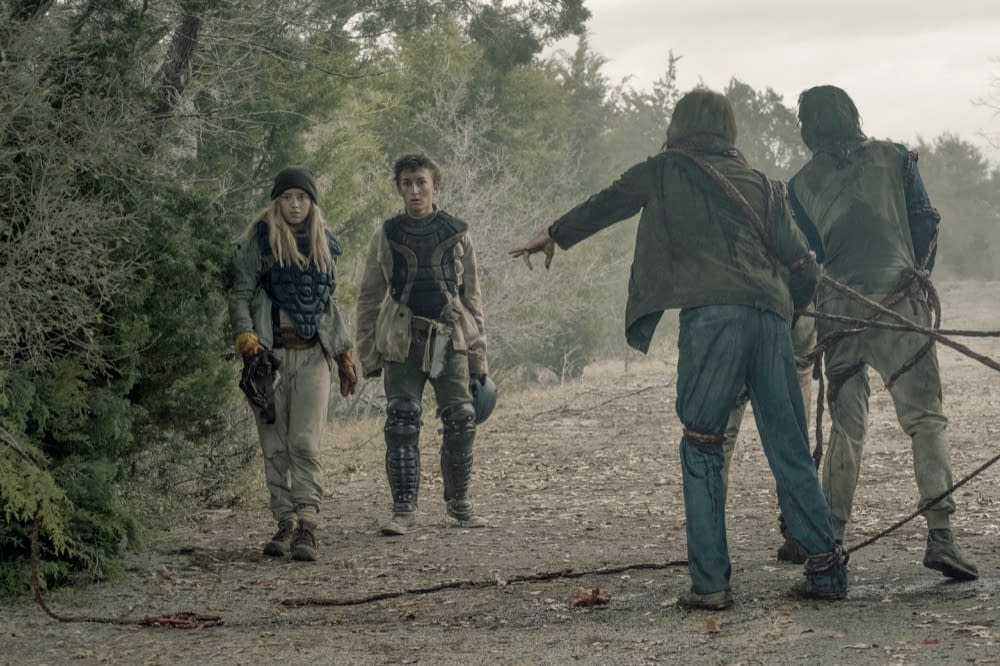 ● I'm digging the way Dylan, Max, and Annie are walker-savy enough to survive but not to an unrealistic level, and they have the ability to manipulate our heroes in ways that preys upon the very traits we admire them for. Still, they're still only kids and only so much they can handle – thankfully, Dylan bonded with Luciana and has taken a liking to our gang enough to go to them for help.
● SHADY BLACK HELICOPTERS ALERT: As Dylan is speaking with Max and Annie, the duo see the mysterious black-suited assailant who took Althea (Maggie Grace) dispose of some walkers and then leaves with two cases (???). For us, a very cool tease to remind us that they haven't forgotten the overarching storyline without giving too much away. Sorry but this is going to be a full-season storyline, folks… and besides? Max and Annie have more pressing matters to deal with…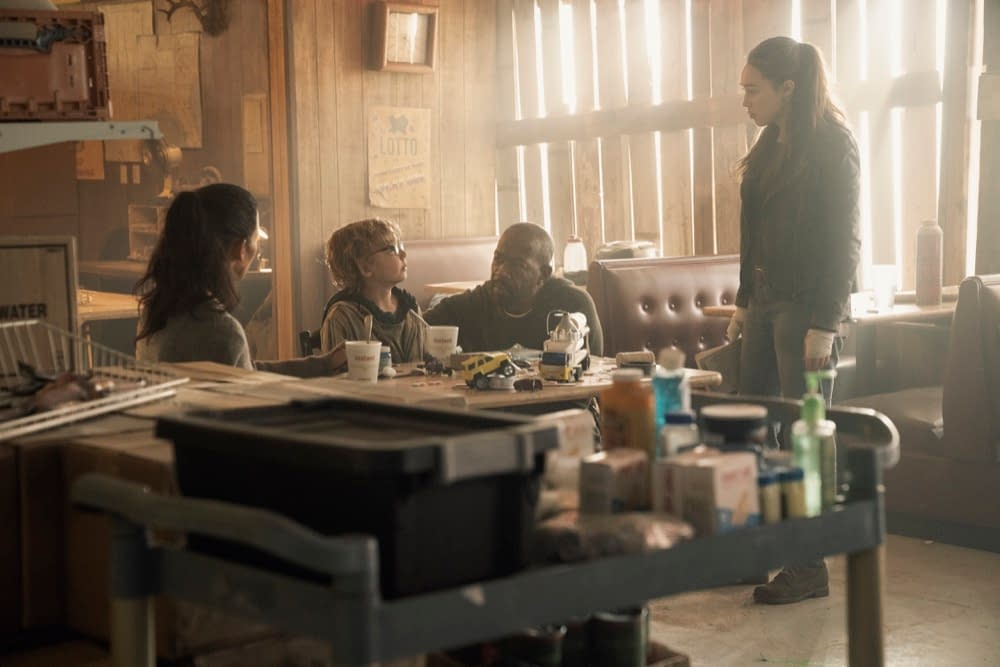 ● Some people might debate the decision-making that resulted in the second plane getting damaged – but "big picture," it made all of the sense in the world. The teamwork and commitment to each other was on full display: even with Daniel telling them to take the place while he runs distraction, Strand and the others go back to save him. Did it cost them a plane? Possibly, yeah. But having someone like Daniel on your side – if he truly is on the path to redemption he claims he is – can prove to be invaluable. Oh, and nice move by Strand turning the plane's propellors into a large-scale version of the Bass-O-Matic '76.
● BTW…death my plane propellor? Very cool visual…
● Yup – it's like Lord of the Flies crossed with Children of the Corn – thankfully, Dylan proves the voice of reason that not only saves their lives but offers up some interesting backstory. Appears there were people in the area beginning a few weeks back with weapons and uniforms (sound familiar?) – and they were looking for something. Again, a great teaser that gives both of our respective groups a very real threat to work together against – and starts to develop a "big bad" that expands the franchise's "universe."
So we have an episode that threw more questions onto the table than it took off – and I'm okay with that on so many levels. So far this season, FTWD has felt like a "bigger" show and the writers have met the challenge. I still feel like the show's place in the franchise's universe is about to get much larger – and "Skidmark" was a strong step in that direction.

AMC's "Fear the Walking Dead" Season 5…
Heading into season 5 of Fear the Walking Dead, the group's mission is clear: locate survivors and help make what's left of the world a slightly better place. With dogged determination, Morgan Jones leads the group with a philosophy rooted in benevolence, community and hope. Each character believes that helping others will allow them to make up for the wrongs of their pasts.

But trust won't be easily earned. Their mission of helping others will be put to the ultimate test when our group finds themselves in unchartered territory, one which will force them to face not just their pasts but also their fears. It is only through facing those fears that the group will discover an entirely new way to live, one that will leave them forever changed.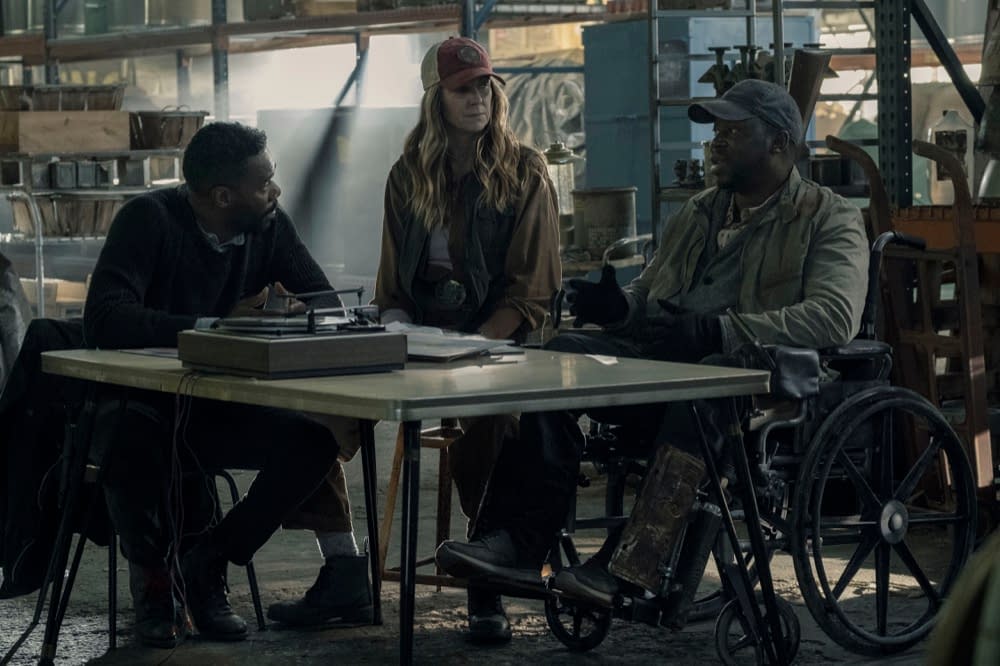 Earlier this year, FTWD cast member Alexa Nisenson (ex-Vulture Charlie) was promoted from recurring to series regular for the upcoming season. Joining Nisenson are Karen David (Legacies, Galavant) as series regular Grace, The Walking Dead alum Austin Amelio reprising ex-Savior Dwight, and the returning Ruben Blades as Daniel Salazar. Bailey Gavulic (Prodigal, At The End Of The Day) will play young survivor Annie, who ends up crossing paths with our crew. Cooper Dodson's (American Horror Story, Preacher) Dylan and Ethan Suess' (Scorpion, Henry Danger) Max are two additional new survivors this season, though what their connection to Gavulic's Annie (if any) is still unclear. Matt Frewer (Max Headroom, The Stand, Watchmen) also joins the cast as shady denim factory co-owner Logan.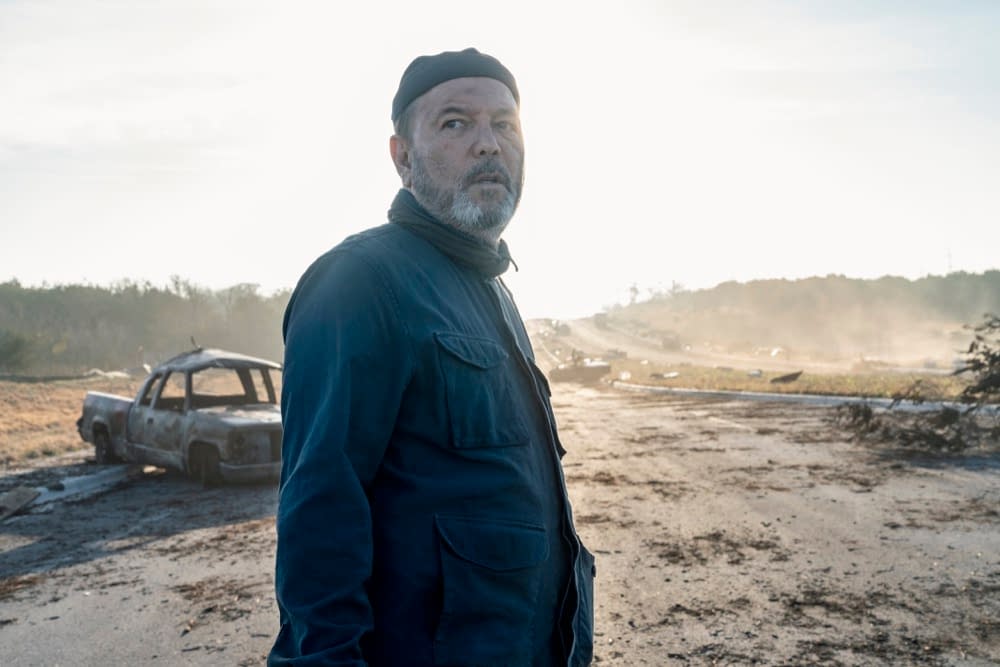 Nisenson, David, Blades, Amelio, Gavulic, Dodson, Suess, and Frewer join Dwight's crossover comrade Morgan (Lennie James) on the upcoming season of The Walking Dead spin-off series, which has undergone some major changes over the past year. Jenna Elfman, Garret Dillahunt, Maggie Grace, Mo Collins, and Daryl Mitchell joined James on the series last season; with Alycia Debnam-Carey, Colman Domingo, and Danay Garcia the only original cast members heading into the fifth season. Daniel Sharman is reportedly reprising his role as Troy Otto, though how his character will come into play during the upcoming season is still unknown.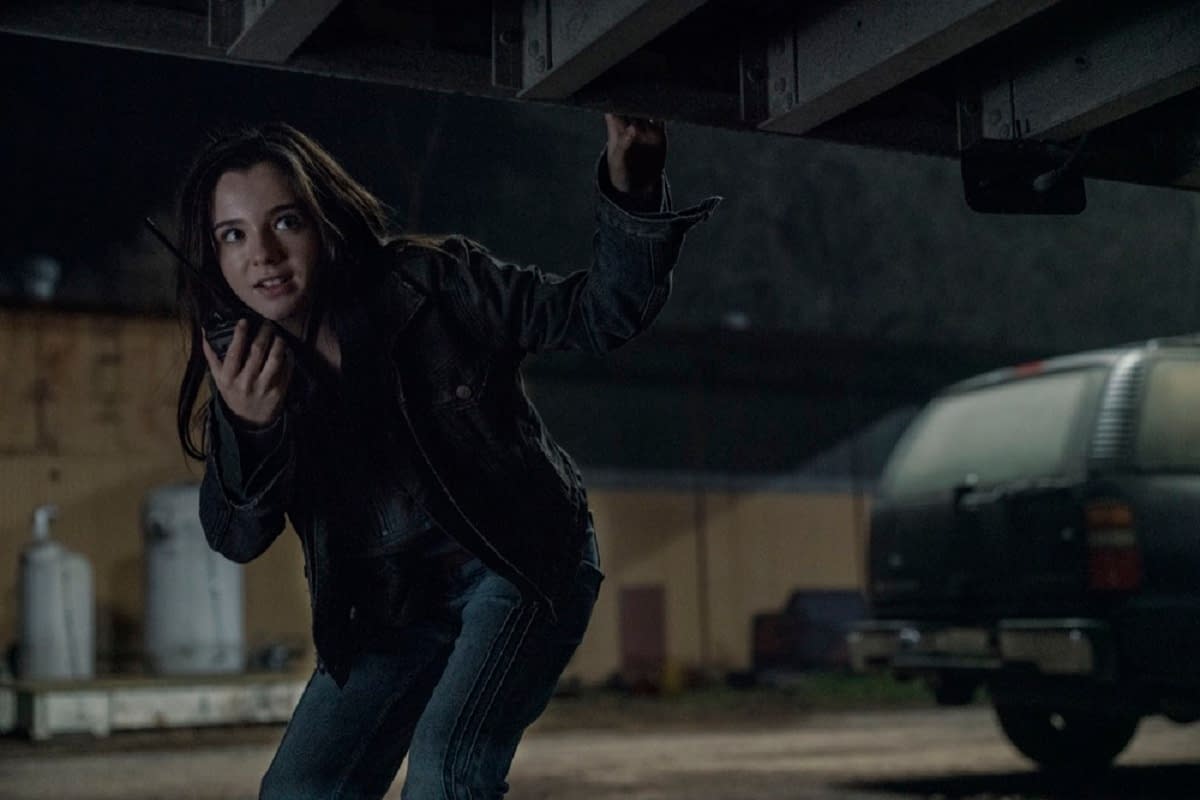 AMC's Fear the Walking Dead is executive produced by showrunners Andrew Chambliss and Ian Goldberg, as well as Robert Kirkman, Scott Gimple, David Alpert, Gale Anne Hurd, and Greg Nicotero, and produced by AMC Studios.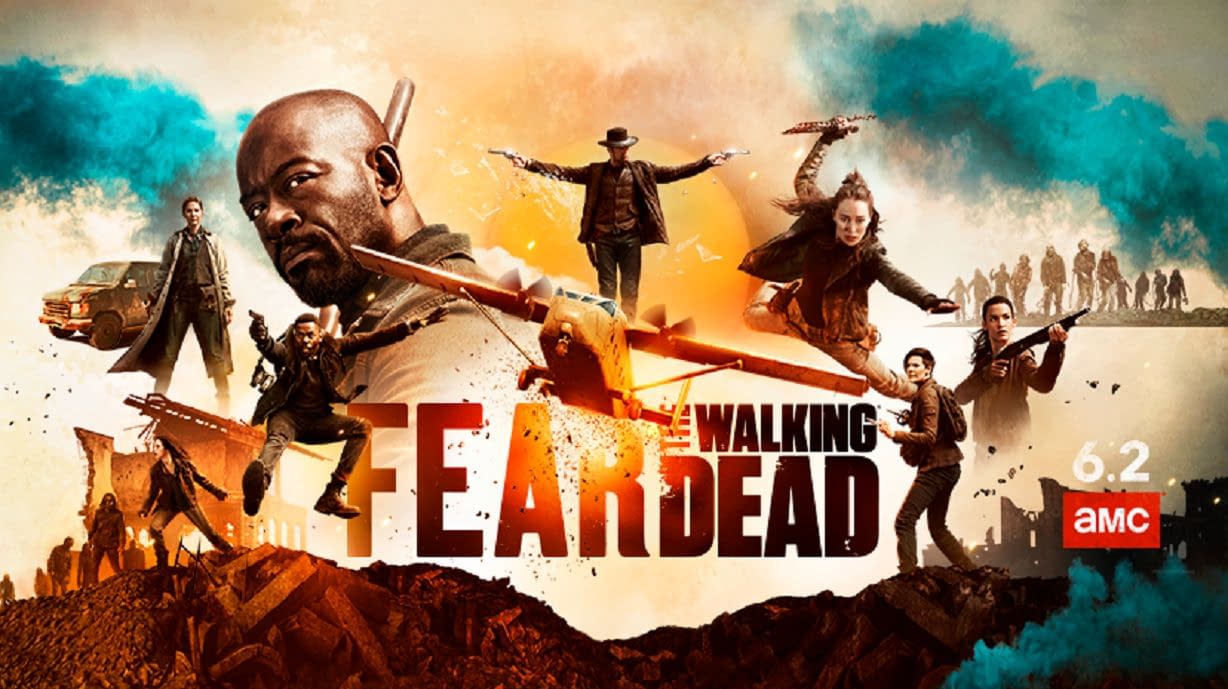 Fear the Walking Dead airs Sundays at 9 p.m. ET/8 p.m. CT – leading fantasy-horror series adaptation NOS4A2, based on Joe Hill's best-selling novel.