Fear the Walking Dead's Colman Domingo: Midseason Finale will "Change the Course of the Show Forever"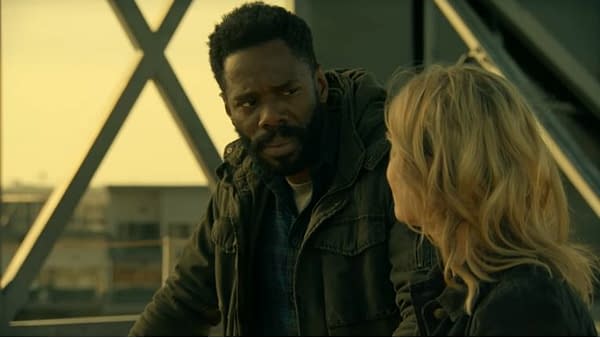 Whatever words you may want to throw at the fourth season of AMC's Fear the Walking Dead, "quiet" and "calm" would definitely not be two of them. From shocking deaths (bye, Nick!) and a half-season overarching mystery (umm…Madison?) to an introduction to two of the best characters in the Walking Dead universe in some time (Garret Dillahunt's John Dorie and Maggie Grace's Althea), the series hasn't let its foot off the gas pedal for seven episodes (even "Laura" was intense) – and according to Colman Domingo (Strand), things get even more intense during the midseason finale.
A guest on Entertainment Weekly's SiriusXM show EW Morning Live earlier this week, Domingo covered a number of topics leading into Sunday night's Michael Satrazemis ("Laura")-directed finale:
● Regarding showrunners Andrew Chambliss and Ian Goldberg using different color schemes to differentiate between the "Now" and "Then" time sequences – which ends with the midseason finale – Domingo joked that he's devised a better way of not getting confused between scenes:
"The easiest thing for me to do is see what costume I'm wearing. It reminds of where we are and what the stakes are. We're basically playing two characters the entire time because we're playing two timelines with different needs and stakes. This season has been a roller-coaster in every single way."
● As for what Sunday night's episode brings, Domingo says that viewers will finally see the two timelines converge – and some questions finally answered:
"It's phenomenal. It is a groundbreaking episode. A lot has been going on with all of the time jumps and now we're going to come to a culmination of all the reasons why the story had to be told in that way — why Alicia, Luciana, and I are as vicious as we are. All the reasons will come to the light."
● Domingo warns viewers that the midseason finale is an emotional heavyweight, and will have major implications moving forward:
"This one is really going to blow your mind. I watched it yesterday in my hotel room and I had an ugly cry. There are some disastrous things that will happen and it's going to be gripping and it's going to change the course of the show forever."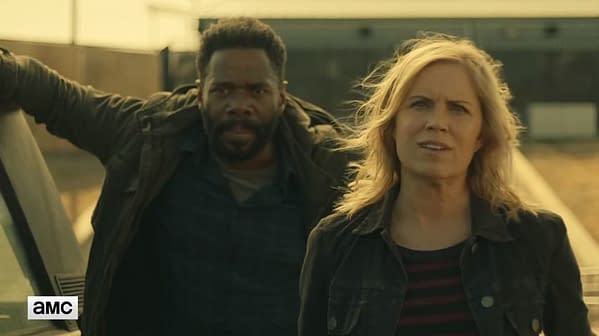 Here's your look at AMC's sneak preview, trailer and overview for this Sunday's mid-season finale, 'No One's Gone':
Fear the Walking Dead s04e08 'No One's Gone': Madison's decision to help an adversary has unintended consequences; John Dorie's life hangs in the balance.
AMC's Fear the Walking Dead's fourth season stars Kim Dickens, Frank Dillane, Alycia Debnam-Carey, Colman Domingo, and Danay Garcia; as well as new series regulars Lennie James, Garret Dillahunt, Jenna Elfman, Maggie Grace, and Kevin Zegers. Produced by AMC Studios, the series is executive produced by Scott M. Gimple; showrunners Andrew Chambliss and Ian Goldberg; Robert Kirkman; David Alpert; Gale Anne Hurd, and Greg Nicotero.