Flash Season 4: An Inside Look at 'Honey, I Shrunk Team Flash'
In a new video from the CW, executive producer Todd Helbing takes us inside the latest episode of The Flash season 4, entitled 'Honey, I Shrunk Team Flash'. The set up for the episode is that Barry (Grant Gustin), while in prison, discovers that his new friend Big Sir (Bill Goldberg) is innocent and he sends the team to prove it. His case ties in with a criminal named Sylvert Rundin (Derek Mears), who has the ability to shrink things. And while going after him, Rundin shrinks Cisco (Carlos Valdes) and Ralph (Hartley Sawyer). Hilarity ensues.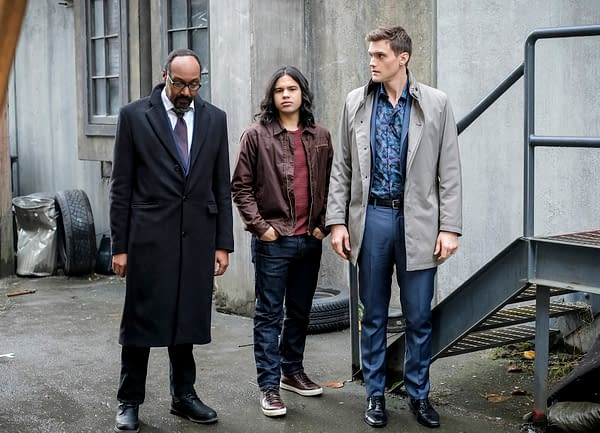 The other thing going on in the episode is that Cecile (Danielle Nicolet) suddenly develops the ability to read minds in relation to her pregnancy — which means that Joe (Jesse L. Martin) is likely to have that "Oh my God, what is happening?" look on his face through most of the episode. The episode features the return of Mayor Anthony Bellows (Vito D'Ambrosio). The character of Sylvert Rundin in the comics is an Atom villain also known as Dwarfstar, who gets his powers from a belt similar to the Atom. The character was created by Gail Simone and John Byrne as a villain in the All-New Atom run, which featured Ryan Choi as the hero.
The Flash airs tonight at 8 p.m. ET on the CW.
https://youtu.be/qVn0KV6tz9A