Fox Corp Reportedly "Cancelled" Biden/FOX Soul Super Bowl Interview
White House Press Secretary Karine Jean-Pierre tweeted that Fox Corp "cancelled" President Biden's FOX Soul pre-Super Bowl interview plan.
---
All hail, "Dark Brandon"! Well, it didn't take long for us to get an answer regarding whether or not President Joseph Biden would be speaking with FOX "News" before this Sunday's Super Bowl LVII (Kansas City Chiefs vs. Philadelphia Eagles). With only days to go until the big game, we're learning today that an interview will not happen. But just to be clear, in case some headlines out here are confusing, The White House reportedly offered to be interviewed by Fox Corp-owned FOX Soul (a free streaming service & digital broadcast network aimed at African American viewers) "to discuss the Super Bowl, the State of the Union, and critical issues impacting the everyday lives of Black Americans" but that FOX Corp "cancelled" the interview.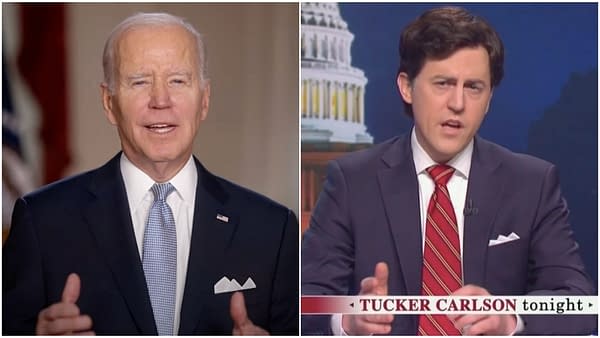 Here's a look at the tweet sent by White House Press Secretary Karine Jean-Pierre confirming what Biden had requested regarding his Super Bowl interview and that Fox Corp had "asked for the interview to be cancelled." Following that, we have a look back at our editorial from last night, making the argument as to why Biden shouldn't treat FOX "News" as anything :
Why "Dark Brandon" Needs to Kill FOX "News"/Super Bowl Interview
First off, I love how "Dark Brandon" has been turned around to become a signal whenever President Joseph Biden decides to go off on the painfully-lacking-on-so-many-levels GOP. Like during this week's State of the Union Address, when Biden went "Dark Brandon" M*G's "Cruella DeVille" third-rate cosplay attempt by getting Trump's brigade to commit publically to not cutting Social Security and Medicare. So that's why I'm hoping it's "Dark Brandon" who's made the decision not to sit with FOX "News" for a Super Bowl LVII (Kansas City Chiefs vs. Philadelphia Eagles) interview. With the game being aired on FOX, it's customary for the POTUS to sit for an interview with the news agency affiliated with the network airing the Super Bowl. Reportedly, FOX "News" didn't set any conditions for the interview and was even willing to offer an interviewer who would be a step above Tucker Carlson, Sean Hannity, Laura Ingraham, or noted foreign policy experts Gene Simmons, Scott Baio, or Kevin Sorbo (like Shannon Bream or Bret Baier). But with three days to go, FOX "News" is reportedly moving forward under the assumption that the interview won't happen… and that's probably the best thing Biden could ever do.
Look… it could always end up happening (and might already be in place by the time you read this), but I hope it isn't, and I hope it doesn't. Because FOX "News" isn't just a joke anymore. It's a joke with a dangerous punchline that involves spewing hate, division, and whacked-out conspiracy theories that require an extra layer of tinfoil to the hat to truly appreciate. It's a bright & shiny cesspool of loudness, whiteness, and oodles of misinformation that doesn't deserve any of it being validated. So it should be a no-brainer for Biden to blow them off. Let's face it. At this point, whoever is still that dedicated to FOX "News" are the ones who believe it when Carlson tells them that everyone who doesn't look, act, or pray the way they do is the enemy. An interview with Biden isn't going to change that. FOX "News" wins, and Biden (and the American people) lose.
There is any number of networks and streaming services that would want the offer. Or bypass it all and set up a "global town hall meeting" instead. In fact, I still need someone to make a coherent, logical argument against throwing FOX "News" out of The White House press room because they shouldn't be allowed to stink up the place with their altered form of reality. So here's hoping that "Dark Brandon" gets to be in charge for just a few days longer. The nation will be better for it.