From Dusk till Dawn Animated Series in Development: Robert Rodriguez
Just because writer/director Robert Rodriguez is being celebrated across the "Star Wars" universe for helping Jon Favreau and Dave Filoni bring back Boba Fett (Temuera Morrison) proper during the second season of The Mandalorian doesn't mean he doesn't have interests in other "universes"- in this case, one that's a little more horrific, brutal, and close to his heart. Speaking with SFX Magazine, The Book of Boba Fett helmer revealed that an animated series set in the "From Dusk till Dawn" universe is being developed.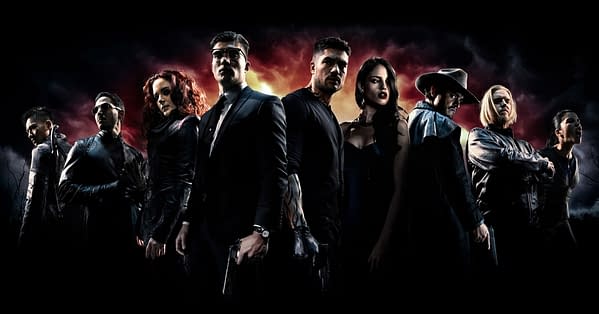 Speaking with the UK-based pop culture news site, Rodriguez explains how the 2016 series came to life on his now-defunct El Rey network (it would go on to run for three seasons). "Over here, I have my own television network [El Rey]. So I had a television network here. And I needed to create programming, so Quentin [Tarantino] and I still control the rights to it. So I went, 'Oh, wow, I'd love to expand the story of Santánico Pandemonium, and the whole Aztec vampire lore for my network'," he said. "And then internationally it was just put out as a Netflix original, I think is probably how you saw it. But here it was an original series for my television network, an action television network called El Rey, which is, you know, the place they're trying to get to at the end of 'Dusk till Dawn' so it fits perfectly [laughs]. That was originally why we did it, so we did three seasons of that." The series was a reimagined and expanded take on the Rodriguez-directed, Tarantino-written 1996 vampire-grindhouse film that starred Tarantino, George Clooney, Juliette Lewis, Salma Hayek, and Harvey Keitel. With the future in mind, Rodriguez added a final teaser to let fans know that the story is far from over. "And now we're looking towards, we're developing an animated Dusk till Dawn. You're the first person to hear that," Rodriguez revealed. And now we all know.