Friday sees the next episode of Marvel's Agents Of SHIELD, with Glenn Talbot as a sleeper agent within the SHIELD organisation, being controlled by General Hale. And todays Marvel Comics titles contain this shout sheet for the net episode…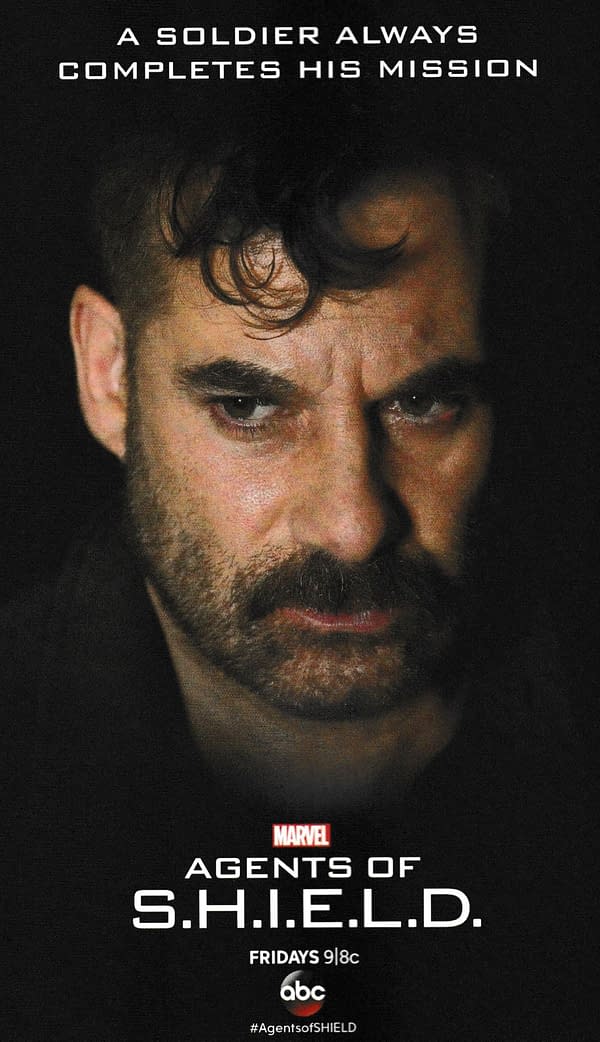 MARVEL'S AGENTS OF SHIELD
Air Date: Friday, April 27, 2018
Time Slot: 9:01 PM-10:01 PM EST on ABC
Episode Title: (#519) "Option Two"
COULSON AND TEAM FIND THEMSELVES UNDER SIEGE AT THE LIGHTHOUSE, ON ABC'S 'MARVEL'S AGENTS OF S.H.I.E.L.D.'
"Option Two" – The team finds themselves trapped and under siege at the Lighthouse, on "Marvel's Agents of S.H.I.E.L.D.," FRIDAY, APRIL 27 (9:01-10:01 p.m. EDT), on The ABC Television Network, streaming and on demand.
"Marvel's Agents of S.H.I.E.L.D." stars Clark Gregg as Agent Phil Coulson, Ming-Na Wen as Agent Melinda May, Chloe Bennet as Daisy Johnson, Iain De Caestecker as Agent Leo Fitz, Elizabeth Henstridge as Agent Jemma Simmons, Henry Simmons as Agent Alphonso "Mack" MacKenzie and Natalia Cordova-Buckley as Elena "Yo-Yo" Rodriguez.
Guest starring are Adrian Pasdar as Glenn Talbot, Jeff Ward as Deke, Maximilian Osinski as Agent Davis, Briana Venskus as Piper, Peter Mensah as Qovas, Patrick Warburton as General Stoner, Jake Busey as Tony Caine, Chen Tang as Agent Kim, Brent Bailey as Agent Thomas and Dominic Daniel as Agent Wahl.
"Option Two" was written by Nora Zuckerman & Lila Zuckerman and directed by Kevin Tancharoen.
"Marvel's Agents of S.H.I.E.L.D." is broadcast in 720 Progressive (720P), ABC's selected HDTV format with a 5.1 channel surround sound. This program carries a TV-14, LV parental guideline.
Enjoyed this article? Share it!