After a very long hiatus, December 7th being the last new episode, we are less than a week away from getting a new episode of Gotham. The first half of the season had a lot of twists and turns with Gordon becoming the captain, Penguin ending up in Arkham, and Bruce running the streets and fighting crime. Fox has released a new teaser trailer for the series return, giving us some interesting footage of what's to come.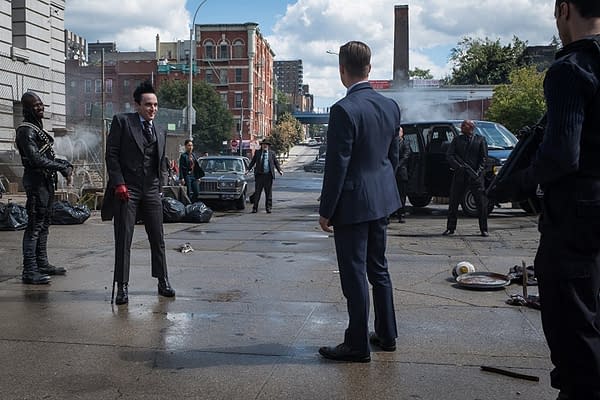 The video is an interesting montage of images, including the fact that Headhunter (Kyle Vincent Terry) is alive after being stabbed by Penguin. Edward Nygma (Cory Michael Smith) is telling riddles again, though he looks kind of beaten up. Bruce Wayne (David Mazouz) is having a drink with Alfred Pennyworth (Sean Pertwee). Barbara Kean (Erin Richards) looks pretty shocked. Quite a few shots of Jerome (Cameron Monaghand) acting pretty Joker-like, a couple of quick images of Jim Gordon (Ben McKenzie), Selina Kyle (Camren Bicondova), Oswald Cobblepot (Robin Lord Taylor), and even a glimpse of Solomon Grundy (Drew Powell).
But what might stand out the most in the teaser trailer is the rather blatant and straightforward Batman imagery. Like they're trying to tell us, "Come back. We're really really close to having him dress up as a bat."
And for those who didn't know, Headhunter is an existing Batman villain from the comics, with a signature two-shot kill method and he was hired to assassinate Jim Gordon.
Gotham returns March 1st at 8 p.m. ET on Fox.
https://youtu.be/zhtMguH87ZA
Enjoyed this article? Share it!