If you missed it today, President Donald Trump used a notable phrase from HBO series Game of Thrones (as well as their font) in a tweet featuring the phrase, "Sanctions Are Coming". The 45th President of the United States tweeted this image on his personal Twitter account this morning, prompting a response from HBO.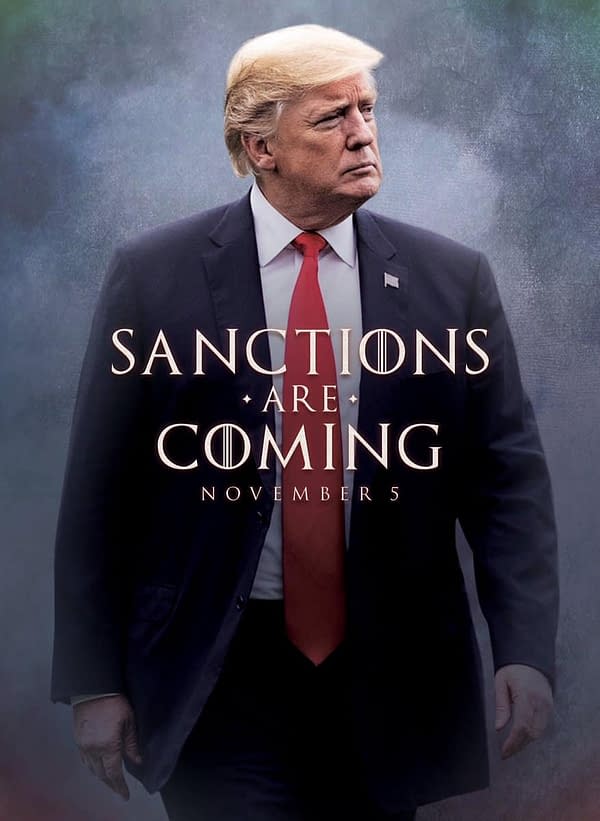 According to The Hill, an HBO spokeswoman offered this statement on the image:
"We were not aware of this messaging and would prefer our trademark not be misappropriated for political purposes."
There was also this tweet, which we LOVE:
How do you say trademark misuse in Dothraki?

— HBO (@HBO) November 2, 2018
The sanctions in question more than likely is in response to to the administration's announced plans to reimpose the most recent set of sanctions (that were lifted) from the Iran nuclear deal. The announcement was made on Friday November 2nd, and the reimposing of the sanctions are expected to happen sometime in the following week.
No word on whether or not HBO or "Game of Thrones' author George R. R. Martin will take legal action against the unauthorized use of their phrase and font, as Pharrell Williams did just last week for Trump's unauthorized use of Williams' song, "Happy".
Game of Thrones is set to return for it's 8th and final season sometime in 2019 on HBO.
Enjoyed this article? Share it!