Fans of Philip Pullman's fantasy epic His Dark Materials have only hours left to wait to feast their eyeballs on BBC and HBO's mega-budget adaptation: our friends across that large body of water we call the Atlantic Ocean will get the series first, on Sunday, November 3rd. The cable giant follows up not far behind, premiering the epic series on Monday, November 4th.
To help set the proper viewing mood, series stars Dafne Keen, Ruth Wilson, James McAvoy, and Lin-Manuel Miranda sat down for a series of behind-the-scenes features. In each clip, Keen, Wilson, McAvoy, and Miranda discuss the personal process that went into bringing their respective characters to life:
Early last month, HBO released the official trailer for the series' first season, a lengthier and more detailed look at the adaptation than what was released during summer's San Diego Comic-Con (SDCC):
Production on the sophomore season is already underway – with Andrew Scott (Fleabag, Sherlock) set to join the second season as Col. John Parry/Doctor Stanislaus Grumman, with the season adapting Pullman's The Subtle Knife. If there is a third season (which is expected), The Amber Spyglass will be adapted to complete the trilogy.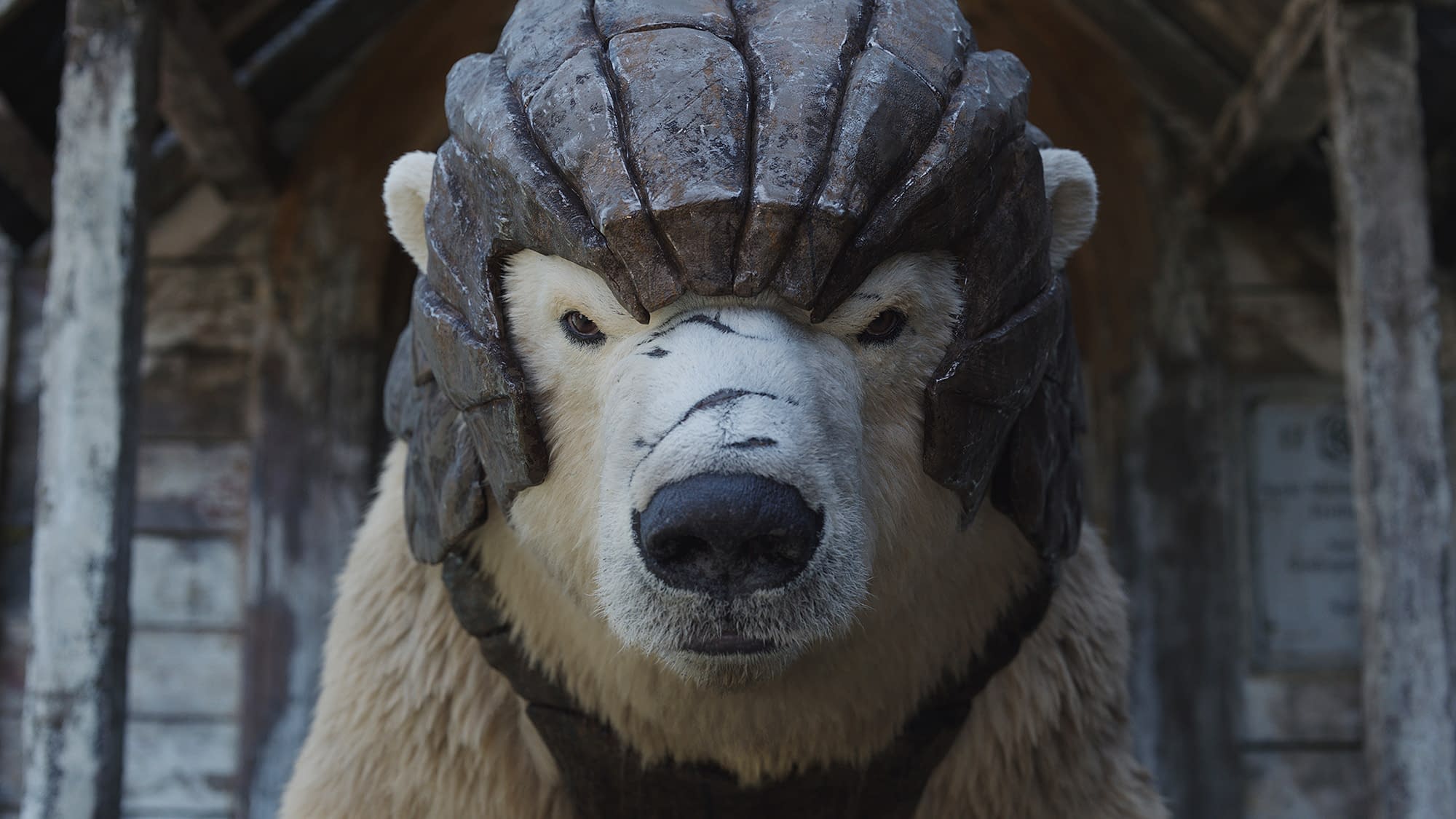 Here's a look at the voice cast for the series' eight-episode first season:
● Lyra Belacqua's (Dafne Keen) daemon Pan(-talaimon) – Kit Connor (Rocketman)
● Lee Scoresby's (Lin-Manuel Mirnada) daemon Hester – Comedian Cristela Alonzo
● Serafina Pekkala's (Ruta Gedmintas) daemon Kaisa – David Suchet (Agatha Christie's Poirot)
● Lord Asriel's (James McAvoy) daemon Stelmaria – Helen McCrory (Peaky Blinders)
● Mrs. Coulter's (Ruth Wilson) daemon – puppeteer Brian Fisher (Detective Pikachu)
● Iorek Byrnison, a panserbjørne – Joe Tandberg (The Innocents)
Based on Pullman's literary trilogy (Northern Lights, The Subtle Knife, The Amber Spyglass) and written by Jack Thorne, His Dark Materials boasts Tom Hooper as lead director and helmer of the first two episodes. Remaining directors include Dawn Shadforth (Episode 3), Otto Bathhurst (Episodes 4 & 5), Euros Lyn (Episode 6), and Jamie Childs (Episodes 7 & 8).
The cast of HBO and BBC's His Dark Materials also includes Anne-Marie Duff, Clarke Peters, Ariyon Bakare, Will Keen, Ian Gelder, Georgina Campbell, Lucian Msamati, James Cosmo, Ruta Gedmintas, Mat Fraser, Geoff Bell, Simon Manyonda, Amir Wilson, Lewin Lloyd, Daniel Frogson, and Tyler Howitt.
His Dark Materials stars Dafne Keen, James McAvoy, Ruth Wilson and Lin-Manuel Miranda. Adapting Philip Pullman's award-winning trilogy of the same name, which is considered a modern masterpiece of imaginative fiction, the first season follows Lyra, a seemingly ordinary but brave young woman from another world. Her search for a kidnapped friend uncovers a sinister plot involving stolen children, and becomes a quest to understand a mysterious phenomenon called Dust.

As she journeys through the worlds, including our own, Lyra meets Will, a determined and courageous boy. Together, they encounter extraordinary beings and dangerous secrets, with the fate of both the living — and the dead — in their hands.
The line-up of executive producers for His Dark Materials include Dan McCulloch, Jane Tranter, and Julie Gardner for Bad Wolf, Pullman, Thorne, Hooper, Deborah Forte, Toby Emmerich, and Carolyn Blackwood for New Line Cinema, and Ben Irving and Piers Wenger for BBC One.