Interview With The Vampire: Ben Daniels Joins Season 2 In Key Role
Ben Daniels joins AMC's Sam Reid, Jacob Anderson, Bailey Bass & Eric Bogosian-starring Anne Rice's Interview with the Vampire Season 2.
---
With filming on the second season of AMC & Rolin Jones' (Perry Mason, Weeds) Sam Reid, Jacob Anderson, Bailey Bass & Eric Bogosian-starring Anne Rice's Interview with the Vampire expected to kick off soon, Deadline Hollywood is reporting exclusively that Ben Daniels (Apple TV+'s Foundation, Netflix's Jupiter's Legacy) is set as a series regular in the upcoming second season of Anne Rice's Interview With The Vampire at AMC. And Daniels isn't just playing any role, tapped to portray Santiago, the lead vampire thespian of the Theatre des Vampires, who grows increasingly suspicious of the American vampires Louis (Anderson) and Claudia (Bass).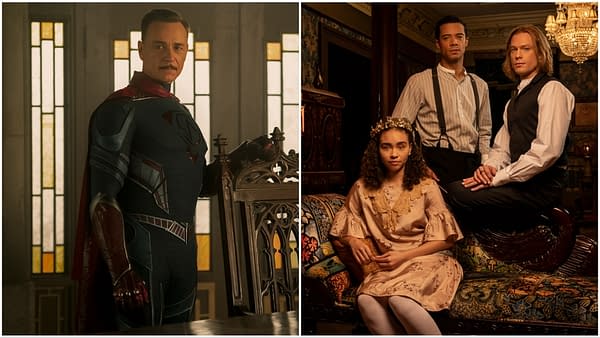 Interview with the Vampire/Mayfair Witches Connections
During the Television Critics Association winter press event in January 2023, Mark Johnson confirmed "ongoing conversations" were underway to connect the two shows. "I think if we continue, you will see a lot of connections, both in terms of characters, in terms of geography — some of them sort of fun, some of them almost like Easter eggs, and we very much want to tie the worlds together in a way that makes sense," Johnson shared. "[Mayfair Witches and Interview With the Vampire are] completely separate on one hand, but thematically, just in terms of Anne Rice — the way she deals with characters and the way she presents them — we want to find a way to have that all fluid throughout the various shows," he added. In fact, Esta Spalding offered the heads-up that there's already one character who connects the series in "strange ways" and that she's "waiting for somebody to figure it out."
Johnson executive produces AMC's Anne Rice's Interview with the Vampire, along with Christopher Rice (with the late author also maintaining an executive producer title). AMC's deal includes 18 titles across the "The Vampire Chronicles" and "The Lives of the Mayfair Witches" book series- also including Queen of the Damned, The Vampire Lestat, and The Witching Hour. Johnson will lead AMC's efforts to develop the full Rice collection for television & streaming. Emmy Award-winning director Alan Taylor (Mad Men, Game of Thrones) will direct the first two episodes and serve as executive producer.