Is Blue Beetle Finally Coming to the Arrowverse?
A while back there was a casting notice for Arrow season 7 that included a new anti-vigilante police officer and a young gay tech-wizard. We covered it at the time when the news hit, but that was expanded on to include some character description and a third person being added to the cast. But now that we have some more details, speculation has begun on who the new characters are — and one of them could finally be the introduction of Ted Kord, aka the Blue Beetle, into the Arrowverse.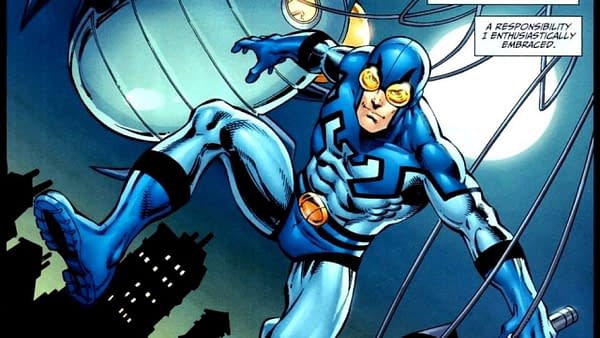 Take into account two things. First is that Stephen Amell has said that he got the whole season 7 breakdown from new showrunner Beth Schwartz and that they would be introducing a character that gave him "goosebumps". Second, the series has been name dropping Ted Kord and Kord Industries since season 1. There is also talk that originally Brandon Routh was supposed to be Ted Kord, hence his character ended up with a tragic past and battle armor that didn't quite coincide with the Ray Palmer story until the got around to shrinking him on DC's Legends of Tomorrow. At the time, the character description for Routh's character was named "Daniel", a nod to the first Blue Beetle, Dan Garret. Rumor is that the character was changed at the last minute because they wanted to save Blue Beetle for the potential Booster Gold movie.
Here is the description for the new character, Daniel Porter, by way of the Hashtag Show:
A Caucasian actor in his mid-30s. He is an intelligent and homosexual technological entrepreneur whose creativity has given him a huge success as a businessman. But having gone through tragic losses in his life is something he hides from the people around him, thus struggling with shaping new relationships with others.
There are a lot of people connecting the dots between this character and Blue Beetle. And it feels right for where the show is right now.
As for the other characters mentioned. There is Jessie Bowden:
A recurring Caucasian 18+-year-old actress play as late teens to early 20s. She is the rookie recruit in the Star City Police Department and is both athletic, comedic, and intelligent. But underneath her youthful attitude, lies a woman who has had enough of vigilantes in Star City and is willing to get rid of them no matter what it takes.
This could be a new character or an obscure one from the comics, but not enough information yet to make a connection. Unless she is Red Dart and part of the Longbow Hunters name dropped in the season finale.
And the final character is Konomi Rhodes:
Half Japanese as well as half Caucasian somewhere in her late 20s to early 30s. "Konomi" is a formidable fighter who ends ups clashing with the heroes of Star City. Her background consists of being a tactician in the military while also carrying on as a street fighter.
There are a couple of DC characters that fit this, including Lady Shiva and Cheshire. Shiva could easily be part of the Longbow Hunters while Cheshire has a history with Arsenal / Roy Harper (Colton Haynes) who is returning to the series in season seven.
This is all speculation at this point based on the casting announcements that are purposefully obtuse to prevent people from guessing. But announcing a character like Blue Beetle at the San Diego Comic-Con would be huge… just saying.