It's Always Sunny in Philadelphia Renewed for Record-Setting Season 15
Well, that got cleared up pretty quickly. Less than 48 hours after we were scratching our heads over Rob McElhenney's comments that negotiations for a 15th season were still "active", FX Networks announced that It's Always Sunny in Philadelphia will return for a 15th season. Our paranoia aside, the series was expected to return considering how well the series has performed for both FXX and FX on Hulu, and the public shows of support the network's executives have offered in the past. What this means is that Dennis (Glenn Howerton), Mac (McElhenney), Charlie (Charlie Day), Dee (Kaitlin Olson), and Frank (Danny DeVito) have a sweet title to hang behind the bar: longest-running live-action comedy series, breaking the record previously held by ABC's The Adventures of Ozzie and Harriet. Written and executive produced by the McElhenney, Howerton and Day, It's Always Sunny in Philadelphia airs on FXX and FX on Hulu, and is produced by FX Productions, 3 Arts Entertainment, and RCG Entertainment.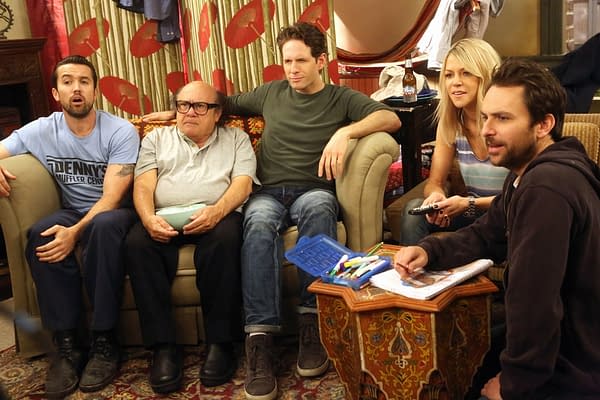 Last month, McElhenney revealed that writing on season 15 was underway, though understandably production timelines are in flux due to production shutdowns caused by the coronavirus pandemic. That said, McElhenney is hopeful that they'll be able to "jump right into something new with 'Sunny'" soon. As far as he's concerned, as long as the fans want it (and FX Networks wants to keep paying for it) then Paddy's will be keeping its doors open for some time to come: "How many years do I have on this planet? I'll do it forever. If people keep watching it and we keep having fun, why would we ever stop? It's my dream job. I never understand why people leave shows. I don't. I never understand that. The show is what I dreamed of doing my entire life. I don't take it for granted. And if they keep paying me and the audience keeps watching it and I still love it… why would I ever stop?"