It's Always Sunny in Philadelphia Star Rob McElhenney Offers Update
Now we're not looking to step all over the well-deserved praise Mythic Quest: Raven's Banquet series co-creators and executive producers Megan Ganz and Rob McElhenney, the cast, and the creative team received for their recently-released COVID-19-themed extra episode. As strong an effort as the Apple TV+ series turned out to be, it's ironic that the last, "extra" episode with all of the production restrictions would be the one that best exemplifies what the show has to offer. Of course, with Mythic Quest having wrapped for the season (with a second season on the way), reporters minds start turning towards McElhenney's long-running FX/FXX series It's Always Sunny in Philadelphia. Specifically, how things are looking for the series heading into its record-breaking 15th season (and beyond) as well as how Paddy's Pub crew Dennis (Glenn Howerton), Mac (McElhenney), Charlie (Charlie Day), Dee (Kaitlin Olson), and Frank (Danny DeVito).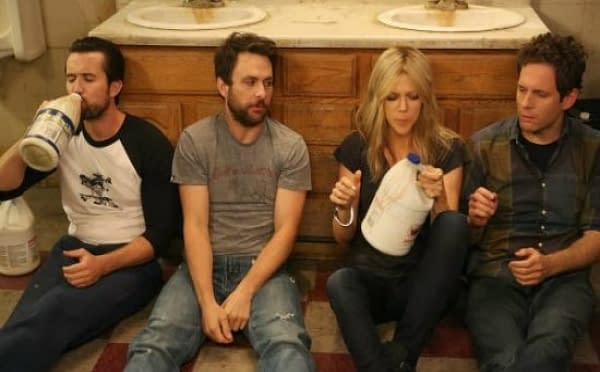 Regarding the show's future, things are looking good but we were surprised to hear that negotiations for the 15th and 16th seasons were still "active". That said, McElhenney is hopeful that they'll be able to "jump right into something new with 'Sunny'" soon. As far as he's concerned, as long as the fans want it (and FX Networks wants to keep paying for it) then Paddy's will be keeping its doors open for some time to come: "How many years do I have on this planet? I'll do it forever. If people keep watching it and we keep having fun, why would we ever stop? It's my dream job. I never understand why people leave shows. I don't. I never understand that. The show is what I dreamed of doing my entire life. I don't take it for granted. And if they keep paying me and the audience keeps watching it and I still love it… why would I ever stop?"
While confirming that Always Sunny would be addressing the coronavirus pandemic during the upcoming season, McElhenney also wants to remind everyone that the gang's been preparing for this since the ninth season episode "The Gang Gets Quarantined". In that episode, the gang goes into lockdown inside Paddy's after Frank warns them of a flu epidemic ravaging through Philadelphia: "Well, we actually do have an episode called 'The Gang Gets Quarantined' where we quarantine ourselves in the bar. I think there's a big flu going around Philadelphia or something like that. When we come back, don't worry, we will address all this in the way only Sunny can!"