'iZombie' Season 5, Episode 4 "Dot Zom": Blaine Needs Better Security as "Mr. Psycho" Arrives [SPOILER REVIEW]
The most recent episode of the CW's iZombie "Dot Zom" left me with too many cliffhangers and wishing I didn't have to wait a whole week for the next episode – which I can only assume is a good thing from the writing standpoint since it keeps viewers on their toes. This week: a creepy new villain with a metal plate in his head, a "zombie watch" website created to identify all the zombie's in New Seattle – with photos courtesy of the "Dead Enders," a teacher hired to home-school Renegade's orphans forced to go rogue, and Blaine soon to be carelessly exposed by a reporter for the murder of the previous mayor. That's a lot to process and be warned… we got no answers.
https://www.youtube.com/watch?v=04gSpHZyt-k
iZombie season 5, episode 4 "Dot Zom": Liv (Rose McIver), Clive (Malcolm Goodwin) and Ravi (Rahul Kohli) investigate the suspicious death of Cornell Piercey (guest star Devin Johnston), the head of Piercey Corp, a successful traffic app company. Melissa Schultz (guest star Stephanie Lemelin), Cornell's ex-girlfriend, is now running the company, makes an interesting reveal to Liv and Clive. Meanwhile, Peyton (Aly Michalka) is focusing on maintaining positive zombie PR in the city. Lastly, Blaine (David Anders) is intrigued when he meets Al Bronson (guest star Gage Golightly, "Teen Wolf") of Bluster Magazine, as she is not at all what he was expecting. Robert Buckley and Bryce Hodgson also star. Michael Wale directed the episode written by John Enbom
This week Tech Brain-consuming Liv (Rose McIver) and Clive (Malcolm Goodwin) investigate the murder of a driving app CEO named Cornell Piercey (Devin Johnston), an eccentric, yet brilliant apocalyptic thinker. Cornell had also been working on 'Project Z', an elaborate doomsday bunker which would house a carefully selected human population once the zombie apocalypse hit. Interestingly enough, Cornell recently added Peyton (Aly Michalka) to the guest list due to her attraction profile (how romantic) – a spot left open after he broke up with his girlfriend. To keep his company from going bankrupt, Cornell was developing a data-mining system for zombie identification and tracking funded by the self-loathing, zombie-hating business owner and fixer king Sheldon Drake (Bill Dow) aka number #1 suspect for his murder.
https://www.youtube.com/watch?v=_399gc0_41o
Essentially, Cornell was speeding up the "Dead Enders" process by miles – permanently parking themselves outside of tanning salons, brain tube dispensaries, and (annoyingly) outside of Blaine's (David Anders) club to photograph zombies. Worth watching this episode was the scene where Blaine – on martial arts brain – dance-kicks their butts while also trying to impress Al Bronson (Gage Golightly) the magazine reporter hired to profile him.
"I'm Maverick."
Blaine is seduced by Al's wit and beauty, inviting her over to his house for a soiree. One would think that having a reporter in your home that certain "security measurers" would be taken. While searching for the restroom, Al stumbles into Blaine's office and discovers the mask he wore to kill the mayor. I'm sorry, but here I'm just not buying it. Blaine has a house full of strangers and leaves his office door unlocked… out of carelessness? I really hope there is something more to that other than a convenient way to get his name splattered across headlines. Let's see him buy his way out of this one – or even better rip Al's head off.
Peyton is full steam ahead on zombie PR and moves forward with the comedic web-based show Hi, Zombie!, aimed at depicting zombies in a favorable light – showing that they can live side-by-side with humans without fear of being served as dinner in a zombie household. Unfortunately, the first run flops and Jimmy the creator is quickly fired for his less than pleasant representation of zombies. Instead, a colleague is appointed to take his place and produces a successful first draft which will depict humans in a stereotypical way.
"Would you like to meet your new boss?"
One of the best scenes of "Dot Zom" was the awakening of the frozen soldiers put on ice by Major (Robert Buckley) after going rogue and killing a few humans. The French investigator on Major's team has been keeping busy and working for someone new – for now, I will merely refer to him as "Mr. Psycho." Limited information regarding his identity and grand plans, thus far all we know is he looks creepy in a van, has a metal plate on his head, and is clearly addicted to some product he sniffs up his nose. Introductions are made and are very clear: the soldiers will live and work in the shadows and use as much brute force as necessary (for what isn't clear yet). When one of the soldiers decides to pass (one can only assume that instincts kicked in and realized working for a sociopath is not worth being unfrozen for), Mr. Psycho rips his head off.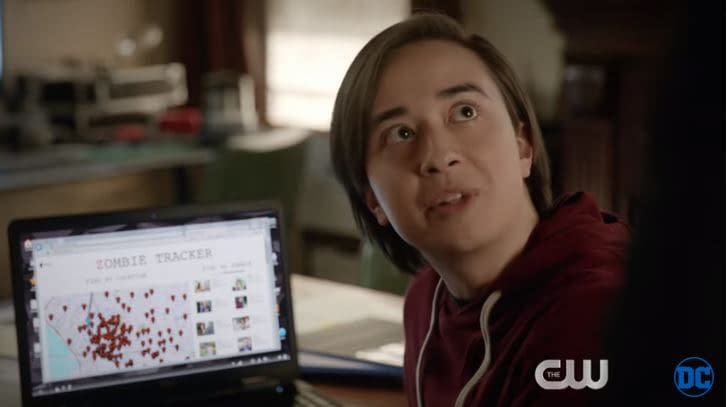 "I hear you work for Renegade…"
The education system of New Seattle is continuing their quest to de-zombify their schools. Last week it was "routine lice checks" and this week it was firing a teacher for being a zombie – no sugar-coating. Lucky for Mr. Graham Moss (Dejon Layola), he did not have to stay in the unemployment line for long, hired by Renegade to home school the orphan kids. Am I the only one that feels some type of references, background check, possibly even a community trial period should be in place before inviting a complete stranger into a secure underground safe house? Oh wait! Liv did give him a brief talk about the importance of keeping his new job a secret.
Lucky for Liv, he was nice enough to wait a few hours before publicly announcing it to his boyfriend at a club…
Unfortunately for him, the information was overheard by a couple of goons as well, and… bad news: new creepy-looking villain kidnapped his boyfriend – and so it seems our teacher also has a new boss.
Here's where I'm left wondering what Mr. Psycho has against Renegade: she's creating more zombies, not killing them. Is this guy pro-zombie or pro human? Is he this season's "big bad" – or is someone else pulling the strings?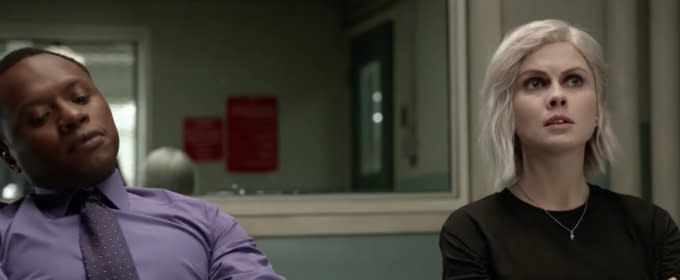 Oh, That's Right! There Was a Murder to Solve!
Liv and Clive eventually solve Cornell's murder. The "Who?" turned out to be Melissa (Stephanie Lemelin), Cornell's old girlfriend – and new zombie. The "Why?" was to to stop Cornell from continuing his zombie identification program.
Or maybe she was pissed she was no longer on the bunker list…???
Who truly knows a woman scorned anyway?

About Next Week's 'iZombie' Episode "Death Moves Pretty Fast"…
I really want to find out more about Mr. Psycho and what his deal is. I'd hate to see Renegade's orphanage shut down so quickly, but maybe a valuable lesson can be learned from here. If even Care.com can ask for references, then so can the world of iZombie.
https://www.youtube.com/watch?v=0_-m2M9w_SY
iZombie season 5, episode 5 "Death Moves Pretty Fast": BUELLER, BUELLER, BUELLER? — While investigating the death of independently wealthy, 19-year-old, Harris Miller, Liv (Rose McIver), on brain à la Ferris Bueller, attempts to cheer up Ravi (Rahul Kohli) who has been spiraling after learning some unfortunate news. Meanwhile, after a nasty fall at the crime scene, Clive (Malcolm Goodwin) is forced to continue his part of the investigation via FaceTime. Lastly, things are suddenly going from bad to worse for Blaine (David Anders). Robert Buckley, Aly Michalka and Bryce Hodgson also star. Linda-Lisa Hayter directed the episode written by Bob Dearden.
CW's iZombie stars Rose McIver as Olivia "Liv" Moore, Malcolm Goodwin as Clive Babineaux, Rahul Kohli as Dr. Ravi Chakrabarti, Robert Buckley as Major Lilywhite, David Anders as Blaine DeBeers, Aly Michalka as Peyton Charles, and Bryce Hodgson as Don E. Filmed in Vancouver, British Columbia, Rob Thomas, Diane Ruggiero-Wright, Danielle Stokdyk, and Dan Etheridge serve as executive producers. Production is handled by Bonanza Productions Inc., in association with Spondoolie Productions and Warner Bros. Television.
iZombie airs Thursday nights at 8 p.m. ET/PT on the CW.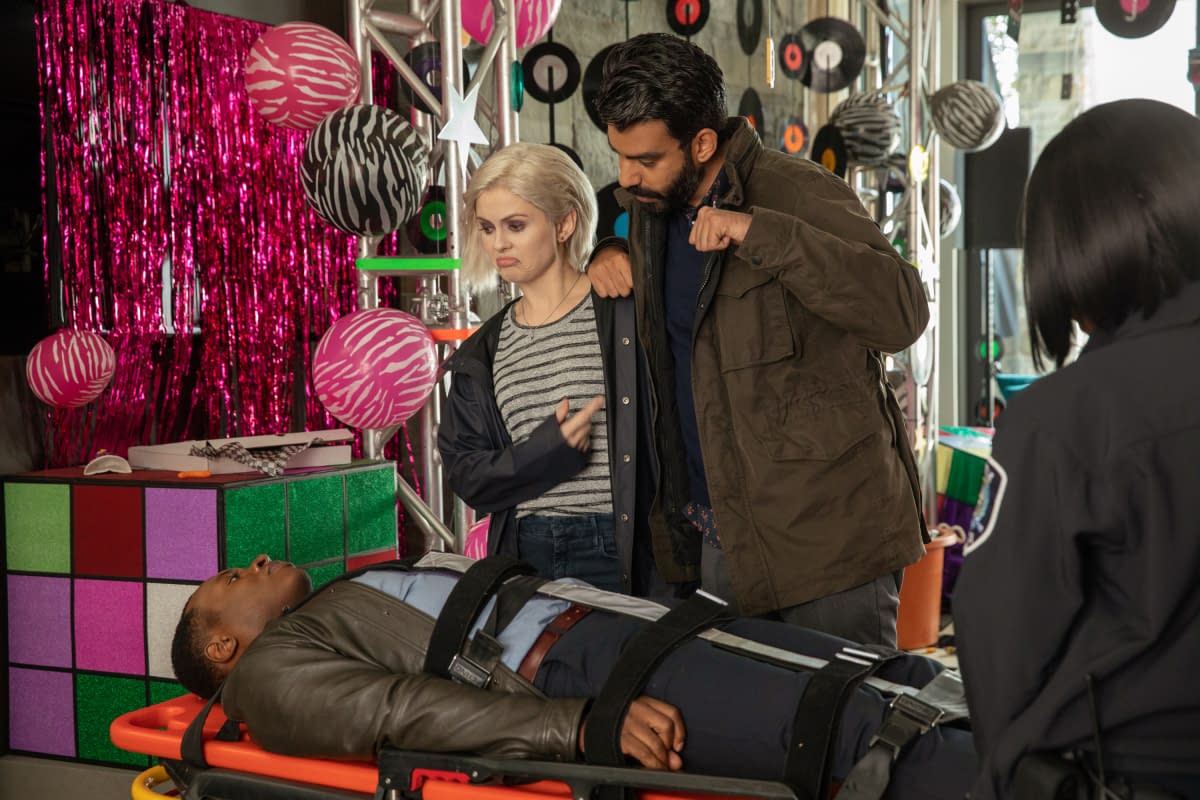 Margo Staten is a Ukrainian born, raised in Brooklyn, organically driven, coffee loving, twice-divorced mother of one baby Einstein. Has a passion for books, yoga in the park and all things 80's and New Orleans.