J. Michael Straczynski Says With Current Warner Bros. Execs, Babylon 5 Never Going to Happen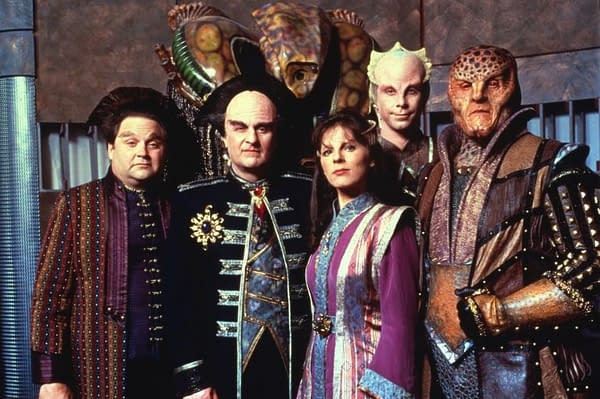 During an extended series of tweets on Thursday evening, Babylon 5 creator J. Michael Straczynski expressed at length that the award winning science fiction series' current television rights holder Warner Bros. has no intention of either doing anything with the license themselves, or of letting anyone else do anything with it.
When asked about when the rights might lapse into the public domain, he expressed that the terms are for the life of the owner plus 50. That means that Warner Bros. would have to fold, and then we all wait another 50 years, so that's not an appreciable option.
It seems that given his comments, there's some execs at WB which hold a seriously long grudge. B5 originally launched on the short-lived PTEN network which existed effectively for as long as the series was on the air. The network was a joint venture between Warner Bros. Domestic Television arm of Time Warner and Chris-Craft Industries. Some of the WB execs had been shut out of playing with the PTEN toys and once that network folded, they continue to refuse to let anything happen with the beloved series.
While the film rights are with JMS, without the accompanying television rights, other studios are loathe to get anywhere close to a cinematic-only option.
That is a stark difference to his optimism that he'd had back in 2014 at San Diego Comic Con when he told an audience that he was looking to do a feature film as a reboot with new actors. He had been focusing on other series to continue building his footprint in Hollywood to be able to get B5 to the big screen. Unfortunately, with the cancellation of the critically acclaimed Netflix-based Sense8 after two seasons, the time may not yet be now. However given his teaming up with the Wachowskis, you never know what they might be able to come up with.