'Chilling Adventures of Sabrina': The Weird Sisters Kiss Things; Chance Perdomo Really Loves Poutine
Now that the hands on the clock have struck midnight on the Parts 2 (Season 2) of Roberto Aguirre-Sacasa's Chilling Adventures of Sabrina – and with the Netflix series having already been renewed for 16 more episodes (or Parts 3 and 4) – you'd think the cast would just be sitting back, relax, and take it easy as viewers devour every episode.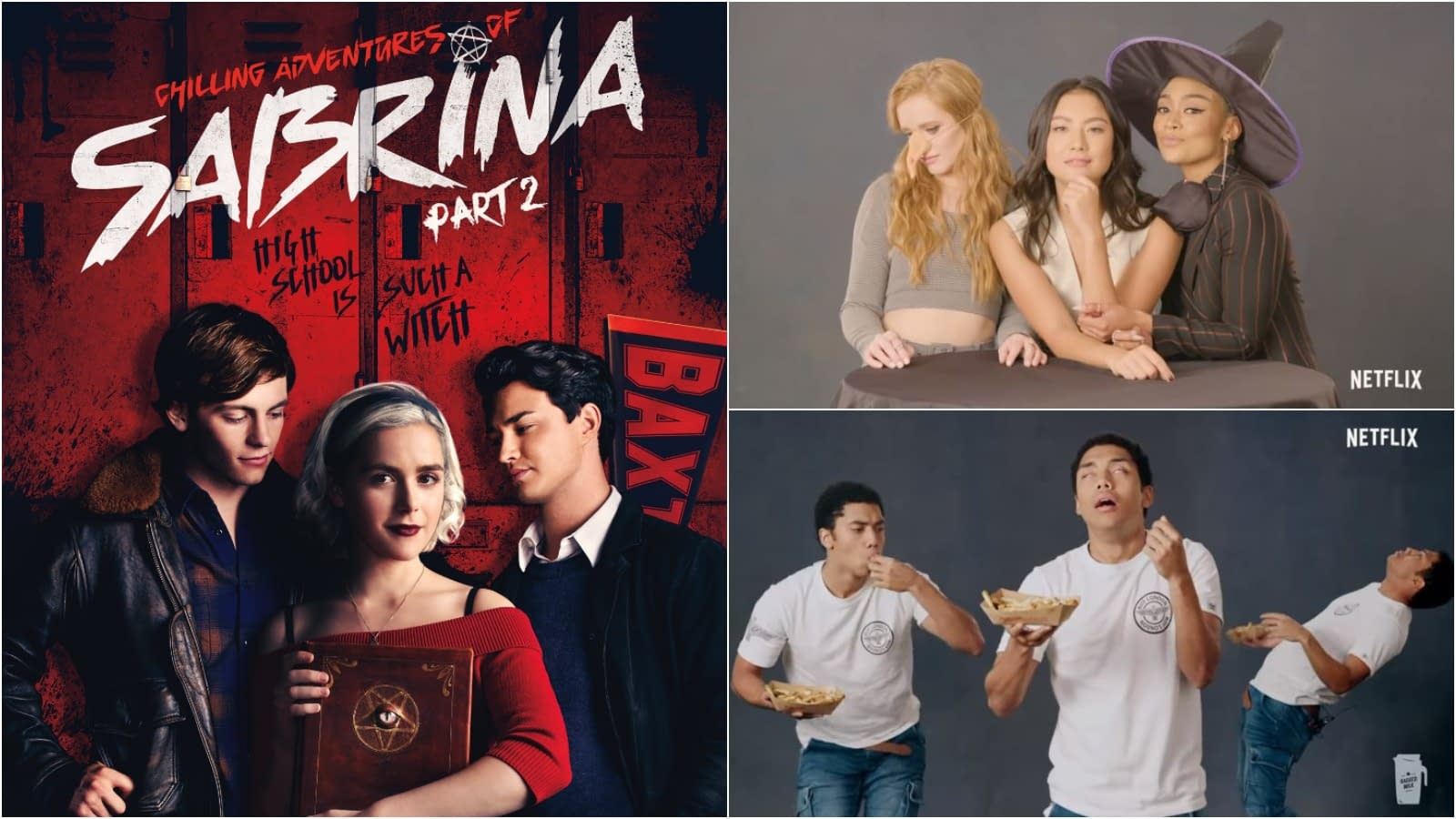 But the hard work of promoting your series is never done – though sometimes, that means finding some very… "unique" (???) ways to get the word out. These next two videos are perfect examples: in the first, Tati Gabrielle, Adeline Rudolph, and Abigail Cowen engage in a few round of "Kiss & Tell"… with foreign objects; while in the second, Chance Perdomo really enjoys eating poutine.

It's a wicked world out there, and Sabrina is brewing up trouble. After signing her name in the Book of the Beast, Sabrina (Kiernan Shipka) struggles to find the balance between her place in the mortal world and her new darker side. New challenges await Sabrina in Part 2, including having to choose between the familiar mortal Harvey Kinkle, and the sexy warlock Nicholas Scratch. She may have signed her name to the Dark Lord, but that doesn't mean she isn't willing to raise a little hell.
Chilling Adventures of Sabrina stars Kiernan Shipka, Miranda Otto, Lucy Davis, Ross Lynch, Michelle Gomez, Chance Perdomo, Jaz Sinclair, Richard Coyle, Tati Gabrielle, Adeline Rudolph, Abigail Cowen, Lachlan Watson, Bronson Pinchot, and Gavin Leatherwood.
https://www.instagram.com/p/BvmApf4Hr2I/?utm_source=ig_embed
Here's a look at the nine chapter titles for Part 2: "The Epiphany," "The Passion of Sabrina Spellman," "Lupercalia," "Doctor Cerberus's House of Horror," "Blackwood," "The Missionaries," "The Miracles of Sabrina Spellman," "The Mandrake," and "The Mephisto Waltz."
Joining the cast during one of those episodes is Alexis Denisof (Buffy the Vampire Slayer, Angel) as Adam Masters, Ms. Wardwell's boyfriend who returns to Greendale after a stint overseas working with Physicians Without Frontiers — unaware that his fiancée has been taken over by the demoness Madam Satan; and Jedidiah Goodacre (The Originals, The 100) as warlock Dorian Gray: owner of exclusive nightclub Dorian's Gray Room and enigmatic gentleman of an indeterminate age who is very good at keeping secrets – especially his own.