James Gunn Shuts Down Yet Another Henry Cavill/DC Studios/DCU Rumor
DC Studios' James Gunn engaged in more conspiracy-killing, shutting down another rumor involving Henry Cavill, Creature Commandos & the DCU.
---
Well, it looks like we're kicking off the week with two updates from James Gunn regarding his & his DC Studios partner Peter Safran's upcoming plans for the DCU. Previously, he stunned us a bit by letting us know just how much we don't know about "Chapter 1 – Gods and Monsters" beyond what we know about the announced first wave of films (Superman Legacy, Swamp Thing, The Authority, The Brave and the Bold & Supergirl: Woman of Tomorrow) and series (Waller, Lanterns, Booster Gold, Creature Commandos & Paradise Lost). But this time around, Gunn is slipping back into "conspiracy killer" mode to address yet another rumbling out there involving some kind of "secret casting plan." The idea behind the nonsense is that Gunn "apparently" offered Henry Cavill the role of Frankenstein in Creature Commandos as a way of "making up for" what went down with Superman. That would mean that Cavill would voice the character in the animated series and play the character in any future live-action adaptation. Well… guess what? Spoiler! It's not true.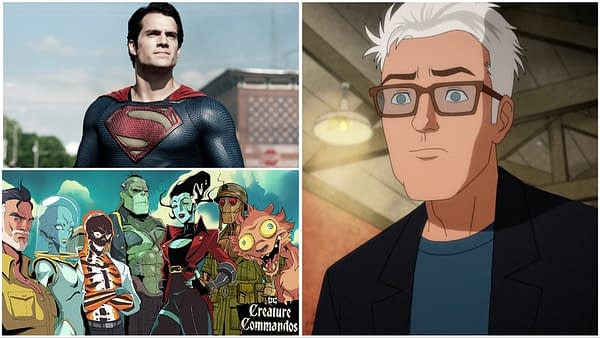 In fact, not only does Creature Commandos already have their Frankenstein, the actor was Gunn & Safran's first choice. As a follow-up, an individual questioned why Gunn was even responding to the rumor, saying that Gunn's tweet come across as negative towards Cavill. "It's on various news sites & I was asked about it. You might consider that this bile you think comes off in my post has more to do with your framing than what I'm actually saying. I've said in the past we've discussed other roles with Henry – just Frankenstein is not one of them," Gunn responded in regards to both points, emphasizing again the important point about his meeting with Cavill that he's mentioned previously. Here's a look at Gunn's initial response:
DC Studios "Chapter 1 – Gods and Monsters": DCU Streaming Series
"Creature Commandos": Created by writer J. M. DeMatteis & artist Pat Broderick and first introduced in Weird War Tales #93 (November 1980), the comic book series focused on Frankenstein's monster teaming with a werewolf, a vampire, and a gorgon to fight Nazis in World War II. The series has the distinction of being the first DCU project that Gunn & Safran gave a green light to, with Gunn having penned the series (with some serious The Suicide Squad roots). In addition, the series is being cast with voice actors who could also play their characters in a live-action project down the road.
"Waller": With Peacemaker Season 2 on hold while Gunn works on Superman: Legacy, the Viola Davis-starring series will include the "Peacemaker team" and serve as a "continuation" of the HBO Max series. The series will be executive produced & penned by Jeremy Carver (Doom Patrol) and DCU writers' room writer Christal Henry.
"Lanterns": Being compared to "a huge HBO-quality event" along the lines of "True Detective," the series will focus on Hal Jordan and John Stewart, who investigate a mystery that Safran said "plays a really big role leading us into the main story that we're telling across our film and television. So this is a very important show for us." This series will replace Greg Berlanti's previous take on a "Green Lantern" series.
"Paradise Lost": Set before the birth of Diana (Wonder Woman) and set on the island of Themyscira, Safran & Gunn see the series as a "Game of Thrones" -like take on Wonder Woman's origins ("It's really about the political intrigue behind a society of all women": Safran). Comic fans may recognize the title from Phil Jimenez & George Pérez's Paradise Island Lost comics series. "How did that come about? What's the origin of an island of all women? What are the beautiful truths and the ugly truths behind all of that? And what's the scheming like between the different power players in that society?" were the rhetorical question that Gunn asked when explaining the series' themes.
"Booster Gold": Seen as the DCU's deep dive into comedy, Safran describes Mike Carter/Booster Gold as "a loser from the future who uses basic future technology to come back to today and pretend to be a superhero." From a series perspective, we're looking at a possible 25th-century setting, where Mike is a disgraced former football star who uses a time machine on display in the Metropolis Space Museum to gain fame and fortune… and maybe the desire to be a real superhero (if the sponsorship is right?). "Basically, "Booster Gold" is imposter syndrome as a superhero," Gunn added.