King of the Hill: Hulu, Mike Judge, Greg Daniels Set Series Revival
Hulu, Mike Judge, and Greg Daniels are teaming up for a series revival of King of the Hill, with original voice cast members set to return.
---
Fans of Mike Judge & Greg Daniels' animated series King of the Hill have a whole lot of reasons to be pretty damn happy today, with news that Hulu has given a series order for a revival. Stemming from 20th Television Animation, Judge & Daniels are creating & executive producing the series, with 3 Arts' Michael Rotenberg & Howard Klein and Bandera Entertainment's Dustin Davis also executive producing. Set to take place in present-day fictional Arlen, Texas, the series will star original voice cast members Judge, Kathy Najimy, Stephen Root, Pamela Adlon, Johnny Hardwick, and Lauren Tom.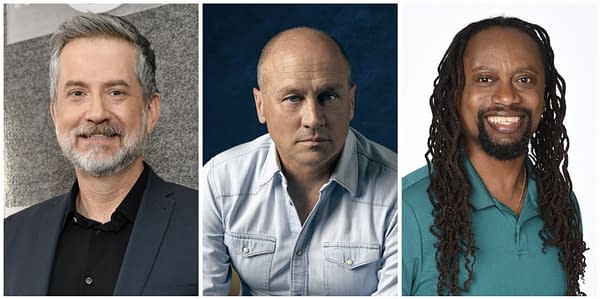 Set in the fictional Arlen, Texas, King of the Hill followed the life of Hank Hill (Judge), an enthusiastic seller of propane and propane accessories; his wife, Peggy (Najimy), local Boggle champ and substitute teacher; and their 13-year-old son, Bobby (Adlon), who defies any expectation his father had for a son. Hank's friends – conspiracy theorist Dale (Hardwick), military barber Bill (Root), and cool but inarticulate Boomhauer (Judge), along with Peggy's friends Minh (Tom) and meteorologist Nancy (Ashley Gardner), and Bobby's friend Connie (Tom) help the Hills navigate a changing world. "Yeah, man, I tell you whot man, that dang Ol' Greg, talking about 'O.G.' and then that Mike Judge … Inspirations, man … the original show, dang ol' classic … Got my kids, man, walking around talking about 'That's my purse! I don't know you!' Feeling blessed, man, I tell you whot 'Feel so Good' is a great song, I don't care what no-dang-body says …" said showrunner and executive producer Saladin Patterson.
"We are all so excited to welcome back Hank, Peggy, and Bobby, and to see what they have to say about the world we live in and continue the conversations we began years ago," said Craig Erwich, President, ABC Entertainment, Hulu and Disney Branded Television Streaming Originals. "This show has all of the perfect ingredients to meet this moment in animation at Hulu, and we're so thankful to be having those conversations alongside this talented group."