Production on Gabrielle Union and Jessica Alba's Bad Boys franchise spinoff series L.A.'s Finest from Spectrum/Sony Pictures was reportedly shut down Thursday and Friday after a stunt-based accident on set. The series hails from writers Brandon Margolisand Brandon Sonnier, Sony Pictures TV, Jerry Bruckheimer Television, and 2.0 Entertainment; with Anton Cropper (Suits) directing the pilot.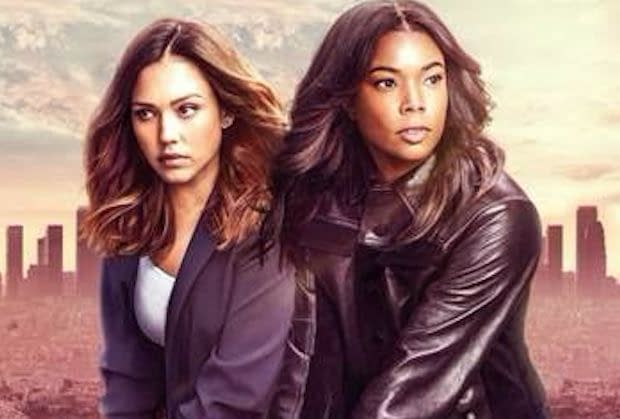 The accident occured when a stunt car crashed into a cargo crate, which then resulted in the video village (where producers and director can screen scenes via monitors) being crashed into – by either the car or the cargo crate. Shooting on the season was expected to wrap this weekend; there is no word yet on when it will resume.
Based on exclusive reporting from Deadline Hollywood based on soruces close to the situation, "multiple people" were "injured" during filming of a car crash scene in San Pedro. Los Angeles Port Police Lt. Philip Heem confirmed that an "accident" had occured at 1:35 p.m. The official was also able to confirm that there were two injuries ("one being worse than the other"), with both emergencies transported to hospitals by ambulance – one taken to San Pedro Peninsula, the other to Harbor UCLA. One patient was reportedly released from the hospital Thursday night, and Occupational Safety and Health Administration (OSHA) offices were notified.
From the universe of the Jerry Bruckheimer/Michael Bay "Bad Boys" franchise, "L.A.'s Finest" follows Syd Burnett (Gabrielle Union), last seen in Miami taking down a drug cartel, who has seemingly left her complicated past behind to become an LAPD detective. Paired with a new partner, Nancy McKenna (Jessica Alba), a working mom with an equally complex history, Syd is forced to confront how her unapologetic lifestyle may be masking a greater personal secret. Taking on the most dangerous criminals in Los Angeles while skirting the rules, and speed limits, Syd and Nancy become a force to be reckoned with – on the streets, and in each other's lives.
Produced by Jerry Bruckheimer Television, and 2.0 Entertainment in association with Sony Pictures Television, L.A.'s Finest is executive produced by Union and Alba alongside Jerry Bruckheimer (Bad Boys), Jonathan Littman (CSI franchise), Kristie Anne Reed (Lucifer), Brandon Margolis (The Blacklist), Brandon Sonnier (The Blacklist), Pam Veasey (CSI:NY), Doug Belgrad (Peter Rabbit), Jeff Gaspin (To Tell the Truth), Jeff Morrone (Atomic Blonde), and Cropper.
Enjoyed this article? Share it!