Legends of Tomorrow Season 3, Episode 11 Recap: Here I Go Again
This article contains spoilers for the DC's Legends of Tomorrow season three episode – Here I Go Again.
.
.
.
.
.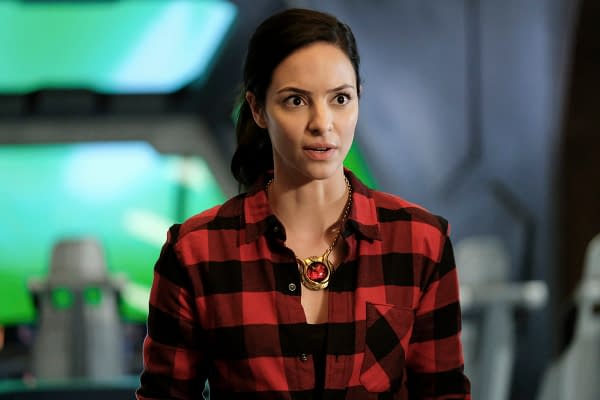 This was the bottle episode of DC's Legends of Tomorrow. That means its an episode where everything is shot mostly on existing sets and using mainly series regulars. The premise was very simple, the Waverider gets caught in a time loop of one hour that Zari (Tala Ashe) has to live over and over again trying to figure out how to stop a bomb from exploding, destroying the ship and killing everyone on board. The team has just returned from a mission to retrieve an anachronism that turned out to be an 8-track tape and the team had to be in 70s disco attire except for Rory (Dominic Purcell) who is dressed in an old French soldier uniform. Zari stayed on the ship, giving it a service check and implemented a new program trying to find loop-holes in time that she could use to save her brother in the future. But the program knocks Gideon offline and while she is trying to fix it, Zari is hit in the face with some kind of timey-wimey green-liquid, some of which she swallows… and then the fun begins.
She relives that one hour over and over, trying to save the crew, learning more about each member… most of which we already knew except that Rory is writing a sci-fi/romance novel that turns out is pretty good. She finally hits on a way to get Nate (Nick Zano) to believe her, but saying the movie title Ground Hogs Day and they work together for a while, and then she gets burned out and goes on a "fun montage"… yes, she even calls it a fun montage… where she reads Rory's book, plays dress up including tying on a Hawkgirl mask, and teacher herself the violin (actress Ashe plays the violin in real life). She also learns that Sara (Caity Lotz) likes Ava (Jesse Macallan), Nat and Amaya (Maisie Richradson-Sellers) are back to fooling around and what Constantine (Matt Ryan) told Ray (Brandon Routh) about Sara. Eventually she finds a way to tell everyone and they discover Gary (Adam Tsekhman) hiding in a trash compactor by accident. Then they find the bomb in the 8-track and Zari sacrifices herself to save everyone else.
Except that's not what really happened at all. When Zari was hit by that liquid, she got very ill and rushed to the med bay where Gideon began saving her, but upload her consciousness into her main frame and ran that variation program Zari created to find a way to beat Mallus without Zari. There wasn't one. So Gideon, who suddenly appeared in her physical form (Amy Louise Pemberton) made the whole time loop thing to force Zari to become close with her teammates. That all of the things she learned were true… except for Gary in the trash compactor which Gideon just thought would be funny. Zari has bonded with her team in just a few hours, she has words of wisdom for each member and helps Rory find a better ending for his book.
This is an episode that you really should watch. What seemed like a cliche storyline that just about every time-travel series does, this is handled with a lot of in-jokes, laughs and a few unique twists that makes it exceptionally good. I haven't been the biggest fan of Zari since she came on board, but she grows on you by the end of the episode.
And speaking of the end of the episode… somewhere in China, Wally West (Keiynan Lonsdale) is finding his center… while Rip Hunter (Arthur Darvill) is finding him. Next week the go looking for the Earth Totem… with pirates.
https://youtu.be/fhv8BvDa1D0