In the DC's Legends of Tomorrow episode Daddy Darhkest, we learned that the totem barers could harm Mallus when Zari (Tala Ashe) touched Nora (Madeleine Arthur). Mallus referred to her as "one of the six", which is interesting in that it was established that there were five Anansi totems. Spirit that both Amaya (Maisie Richardson-Sellers) and Mari (Megalyn Echikunwoke) both wear, Air that Zari has, Water which is now part of Kuasa (Tracy Ifeachor), Fire which was broken in the Vixen animated series and now in possession of the Detroit Museum and Earth in an unknown location.
But a sixth one? Even Captain Planet only had five… but now we know what the sixth one is and there are SPOILERS below.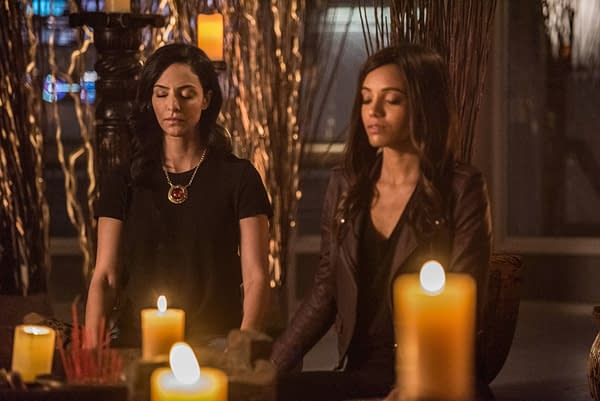 .
.
Still here?
.
Okay, there were some pretty interesting guesses popping up on-line including one that it was a Time Totem, which sounded a bit too Infinity Gauntlet to me. I had planned to spend part of this weekend doing some digging into the DC Archives to see if I could find something similar… and then the CW just went ahead and told us.
They released the synopsis for a musical themed episode, the 14th episode of the season, called Amazing Grace. Here is that synopsis:
IT'S ALL ABOUT THE MUSIC — When the Legends learn that a mysterious tragedy destroyed Memphis in 1954, thus eradicating the birthplace of rock and roll, they embark on their most important mission – to save music. Nate (Nick Zano) is excited to show Amaya why music is important to him and he is surprised it leads to a rock legend as well as the sixth and final totem, the Death Totem. Meanwhile, Zari (Tala Ashe) helps their newest member try to adjust to the team. Caity Lotz, Brandon Routh, Dominc Purcell, Maise Richardson-Sellers and Keiynan Lonsdale also star. David Geddes directed the episode written by Matthew Maala & Tyrone B. Carter (#314). Original airdate 3/12/2018.
So… yeah, there it is right there. The Death Totem. This makes the 15th episodes title, Necromancing the Stone, seem a bit more than a play on a movie title. But what can the Death Totem do? Bring people back to life? Kill people? Make zombies? Now that we know what it is, there are actually more questions.
DC's Legends of Tomorrow airs Mondays at 8 PM on the CW.
Enjoyed this article? Share it!