During their Upfronts presentation last week, The CW released a synopsis for DC's Legends of Tomorrow season 4. The synopsis brought up a few interesting things and raised some questions with some omissions. Here was the artwork the released for season 4 along with the synopsis, and then I'll talk about it after.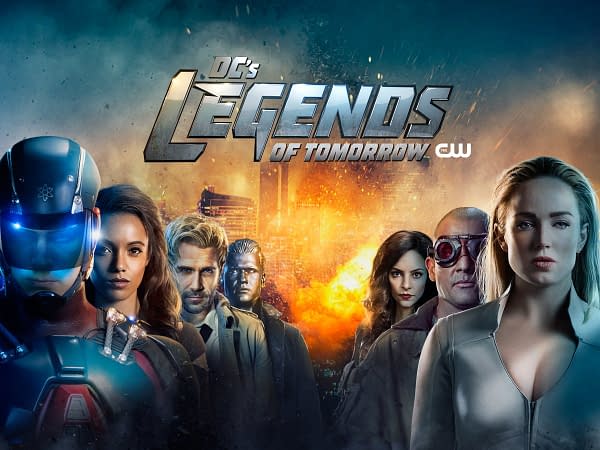 After defeating the demon Mallus by cuddling him to death with a giant stuffed animal named Beebo, the Legends are ready to ease off the gas. Sara (Caity Lotz) and her team join Ava Sharpe (Jes Macallan) and the Time Bureau to help clean up the last few remaining anachronisms. The job seems straightforward enough until Constantine (Matt Ryan) arrives to inform them that, in solving one major problem, they have created another, much larger one. When the Legends let time crumble in order to release and defeat Mallus, the barrier between worlds softened. History is now infected with "Fugitives" – magical creatures from myths, fairytales, and legends. Having been expelled throughout time by people like Constantine, these Fugitives are now returning to our world in droves and making a real mess of things. As the Time Bureau is distrustful of and ill-equipped to deal with magic, the Legends must team up with everyone's favorite demonologist to set history back on track.

Sara and Constantine are joined by compassionate inventor Ray Palmer (Brandon Routh), hotheaded ex-con Mick Rory (Dominic Purcell), rebellious totem-bearer Zari (Tala Ashe), and heartbroken historian-turned-superhero Nate (Nick Zano) as they set out to save the world – and their legacy. It's the familiar fun of the Legends time-travelling across historical events and encountering famous figures with an added shot of magical craziness! Based on the characters from DC, DC'S LEGENDS OF TOMORROW is from Bonanza Productions Inc. in association with Berlanti Productions and Warner Bros. Television, with executive producers Greg Berlanti ("Arrow," "The Flash," "Supergirl"), Phil Klemmer ("The Tomorrow People," "Chuck") and Sarah Schechter ("Arrow," "The Flash").
One of the big changes for the series is Marc Guggenheim has stepped away as co-showrunner, leaving the Phil Klemmer in charge solo. Guggenheim is moving to a story consultant position with what I believe is the entire Arrowverse, not just Arrow and Legends.
The write-up tells us that the series is going to sort of stay with what they've been doing but with a new twist. Last season they traveled around trying to get historical figures back to where they belong. The new season has them dealing with fantasy and magical creatures… so dragons, knolls, goblins, maybe a unicorn. Anyone else want to see Mick Rory (Dominic Purcell) riding a unicorn? That doesn't really give us a big bad for the season yet, but we can probably look at the powerful magic users of the DC Universe like Felix Faust. And if they're going fantasy/magic, that could bring some interesting guest appearances by characters like Zatanna, Detective Chimp, or maybe even Etrigan the Demon.
Things to take note of: In the image they released, Vixen, aka Amaya Jiwe (Maisie Richardson-Sellers), is in the shot even though she left the team at the end of the season finale, she's not mentioned in the synopsis, and Nate Heywood (Nick Zano) is described as being "heartbroken". So other than the image, it seems like Amaya is gone. The other name missing from the synopsis is Kid Flash, aka Wally West (Keiynan Lonsdale). He's also not in the image. Is he off the ship for the new season? Is he going back to TheFlash? Or is he headed back to the monastery where Rip Hunter (Arthur Darvill) found him?
DC's Legends of Tomorrow will be back for its fourth season in October of this year. We'll likely get more information at this year's San Diego Comic-Con in July.
Enjoyed this article? Share it!