The second season of Netflix series GLOW about the Gorgeous Ladies of Wrestling is back, and better than ever. The Golden Globe nominated series that celebrates all things girl power and amazing odd-ball Netflix comedy.
The performances are top notch in both performance and athleticism-  these ladies are at the top of their games and completely dedicated to the series.
If you missed season 2 episode 3 "Mother of all Matches", you can catch up here.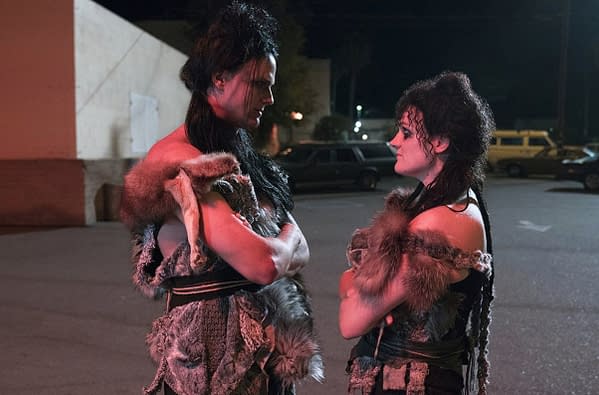 Things that happened in "Perverts Are People Too":
The episode opens with Sheila leaving the studio, and the fans responding to them.
OMG THERE'S A GUY DRESSED AS SHEILA
Bash, Debbie, and Sam head in for a meeting with the station, and it turns out they're having sponsorship and ratings issues
The ladies are reading their fan mail by the pool, and they come up with the idea to set up an autograph table after the show
"Awww an intellectual sexual predator, you're so lucky!"
Bash and Carmen have a chat,
Sam has Bash and Debbie give him ideas to pitch to the network, but they're not so great without Ruth's ideas
Sheila doesn't want to answer any of her fanmail, she's afraid to tell people about her
Carmen and Rhonda take Bash to a club, one that he's uncomfortable being at because it's obviously a gay club
Ruth heads out to a 'dinner meeting' with the network executive, but it turns out it's in his bungalow
It's semi ok though- Glen is there, and alleviates some of Ruth's concerns
Eeeeeeh oh man, nevermind, Glen leaves Ruth alone with the main network guy and it gets weird.
He's trying to put the moves on her, and tries to hit on her with a "how about you show me some moves", and rubs his face in her chest
She freezes as he keeps holding her, and as soon as he lets go to start the hot tub, she runs for it
Bash goes home, still on the hunt for Florian, and shares a meal with his family's butler
He's coming to terms with who he is, both emotionally and professionally
Back at the studio as Debbie and crew are getting ready for the meeting, they get a phonecall informing them that the meeting is cancelled and the show is getting a timeslot moved.
Debbie tells Ruth all this, and of course Ruth reveals what happened to her
Debbie calls Ruth stupid- blaming her for getting the show fucked, telling her that she should have let the exec think whatever he wanted was going to happen.
The dialog is cutting, relevant then and now.
***
I was not expecting things to take that turn between Debbie and Ruth- the ugly truth of the world Debbie lived but Ruth played in affecting the rest of the show.
GLOW season 2 is currently streaming on Netflix.
Enjoyed this article? Share it!