We keep saying it but Legion remains a high point of episodic television. It's trippy, very psychedelic, and strangely addictive. Season 2 of the series continues with episode 10, "Chapter 18".
The story of mutants and mental powers being told in the rich visceral era the original Chris Claremont X-Men stories were placed in was a genius move, and one that sets the show apart on FX from any of the other comic book based properties.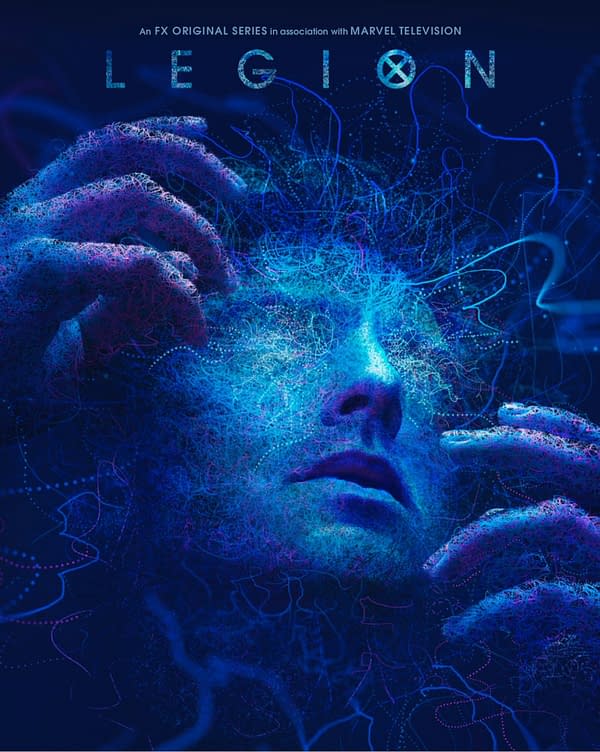 If you didn't see last week's episode "Chapter 17", you can catch up here.
Season 2 episode 10 "Chapter 18" has another simple synopsis (seriously, sensing a theme here):
"Reunion, ruination and rage."
Things that happened in Legion s2e10:
*The episode begins with streaks of lightning across a dark sky, and figures running from the storm
*Lenny is lying in a yurt, blood on her face, with David behind her on a throne clutching a crystal ball. We see Syd within the ball, and we hear her voice say "I'm going after him."
*Syd emerges from her desert tent where she and David have been sleeping, and heads to a hole in the ground has an oversized bathtub stopper next to it.
*She stands at the edge of it, and an injured white rabbit (Alice much?) is tossed out.
*Syd removes a hook from the bunny, but gets pulled into the hole herself
*Melanie is waiting at the bottom of the hole, asks Syd if she knows the definition of 'crazy'.
*Melanie tries to convince Syd that David doesn't actually love her, that it's power
*Back above ground, David is braving a sandstorm trying to find Syd.
*David makes it to a house on a hill, where he finds Oliver
*It's pretty obvious that this isn't the same David from before- he's embraced his madness and abilities
*He's drilling into Oliver's legs, with an actual drill, trying to get an answer as to where Syd is
*Lenny shows up in her crappy car, which promtply catches on fire, but she manages to get the device out of the trunk.
*She spies the hole- where now a group of figures with safes on their heads are gathered around it in an almost meditative stance
*"Excuse me, do you know where a girl could find a monastery?"
*Melanie shows Syd moments of David with Future Syd, and warns her about David turning, becoming Legion the world killer
*Loudermilk and Kerrie are leading a group who are tracking Lenny, and they made it all the way to the car and the hole in the ground
*The Safe-wearing men crawl up from the hole, and begin swinging balls that emit a terrible sound that causes everyone but Kerrie to collapse
*She takes out her bowstaff and kicks everyone's ass while "Ocean Sized" by Jane's Addiction plays
*Oliver still won't tell David where Syd is, and we're treated to another of the amazing visual dissolves (David and the helecopter)
*Why the hell do Clark and the Vermillion have RiffRaff's weapon from RHPS?
*Melanie and the Minotaur and with Farouk's body, and she opens the container he was in
*She kisses him, and collapses as he wakes
*Loudermilk is dragged into the hole, and runs past the Vermillion and the minotaur
*Kerrie goes after them, and finds Syd in the the room with the screens.
*Syd tells Kerrie they have to stop David, that he's the monster now
*The minotaur comes for them and Kerrie offers to take him out, but Syd says "Naw, I need to hit something."
*The fight does not go well.
*Farouk rises, and manages to knock the tuning fork thing off it's position on the hill.
*Farouk greets the sunrise, and David's face appears distorted to whisper "boo".
***
Okay, so probably not the easiest series to follow, and I'm getting the impression that perhaps this will turn into a Ragnarok kind of situation, but a pretty strong episode. Good fight sequences, some fabulous music from Jeff Russo (as always), and the continuation of the narrative.
Legion airs on FX on Tuesdays.
Enjoyed this article? Share it!