Let's Talk About Legion Season 2 Episode 11, "Chapter 19"
We keep saying it but Legion remains a high point of episodic television. It's trippy, very psychedelic, and strangely addictive. Season 2 of the series continues with episode 11, "Chapter 19".
The story of mutants and mental powers being told in the rich visceral era the original Chris Claremont X-Men stories were placed in was a genius move, and one that sets the show apart on FX from any of the other comic book based properties.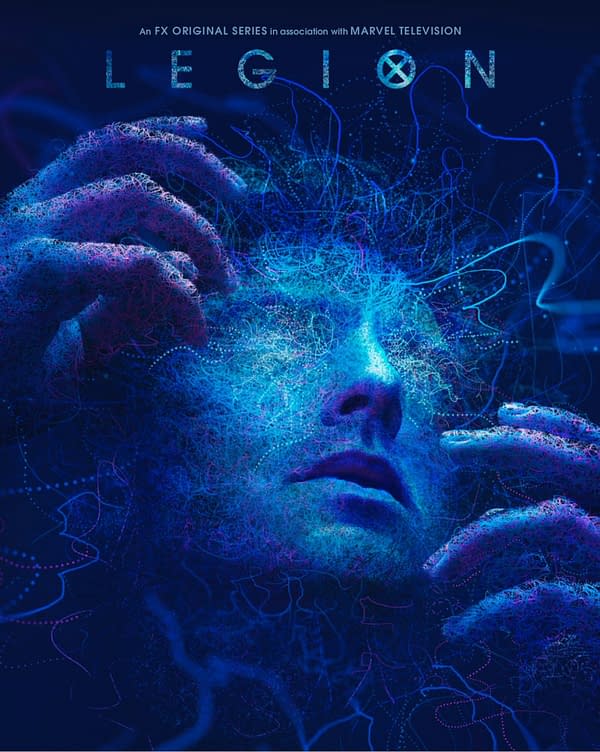 If you didn't see last week's episode "Chapter 18", you can catch up here.
Season 2 episode 11 "Chapter 19" has another simple synopsis (seriously, sensing a theme here):
"David fights the future."
Things that happened in Legion s2e11:
*The episode opens with the tuning fork thing from last week flying through the air
*David is singing "Behind Blue Eyes" by The Who while floating across the wilderness. Man I need to buy this version.
*WHAT IS FAROUK SAYING.
*HOLY CRAP THIS FIGHT.
*This is the fight from Wheel of Time between the Dragon and The Dark One! This is so f*cking trippy and amazing
*Farouk and David fighting with their avatars is just inspired
*Lenny shoots her gun at the turning fork as things go poorly for David, and as he picks up a rock, the title screen flashes
*Three years later….
*WHAT Melanie and Oliver are together again
*"Well, the world ended."
*They've done what Farouk did, leaving their bodies for an existence in the other realm
*They talk about when David turned, and why, again citing because he saw the future
*Back in the desert, David stops bashing Farouk's head with a rock because Syd comes to him with the head of the Minotaur and says they need to 'talk'
*She has a gun pointed at him, telling him that he's the villain in this equation
*Oh this is heartbreaking, everything Syd says to him, everything he says to her
*"Baby, don't you trust me?" David pleads. "I do, I just trust myself more."
*She pulls the trigger.
*He wakes up back in his room from season 1, the delusion video playing on his tv
*Theres another version of him in the room
*We get a vision of Lenny behind her gun again, she's watching the scene between Syd and David and pulls her trigger, shattering Syd's bullet and knocking the pair to the ground
*Fukuyama and his guards chase down Lenny and corner her
*This entire three Davids talking about what to do now really brings to life "we are Legion"
*Farouk is taken away by Fukuyama's men, and so is Lenny
*And now a montage of David in his own room while worrying about Syd as she stares into her locket.
*This song too, just fabulous. A song called "Nothin' In the World Can Stop Me Worryin' 'Bout That Girl"
*David projects himself into Syd's room, professing his love of her and begging her to run away with him
*David goes to speak to Farouk, telling him if the powers that be don't kill him then David will.
*A mouse finds its way to Syd's pillow as she sleeps, and whispers in her ear
*"The trial of the Shadow King", has a wordy interlude
*Again, the production designs on this show are unparalleled
*David gets brought in to the room where the trial is happening, and he's captured in a forcefield
*Obviously Farouk has again convinced everyone that David is the bad buy
*The Vermillion inform him that Syd and The Shadow King have told them about his future crimes
*Syd accuses David of drugging her and having sex with her
*He is shocked, and responds that he is a good person, and deserves love.
*The Vermillion say he'll submit to them for treatment and rehabilitation or they'll terminate him
*David begins to phase, and the Vermillion call for gas to be pumped into his holding cell
*He blasts out of it, and disappears
*David shows up in Lenny's cell and breaks her out, the pair disappear
*"What do we do now?" Syd asks Clark. "We pray."
***
Strong freaking ending for the season, I'm so so glad we know already that FX has picked up Legion for a third season.
We'll do a full season analysis, keep an eye out.