After Life: No More Mr. Nice Guy for Ricky Gervais in New Netflix Series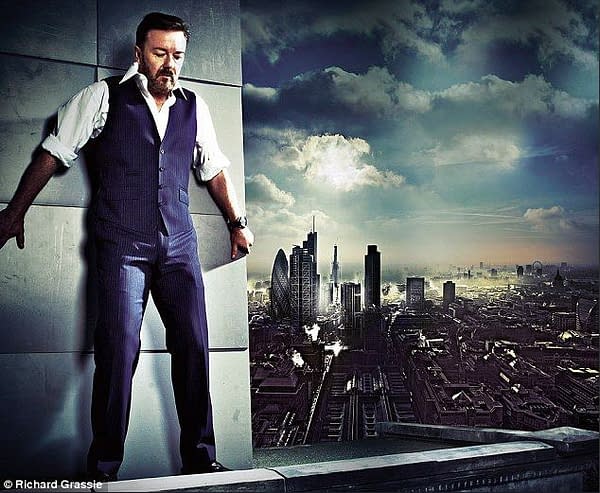 Ricky Gervais's Tony is making some serious changes to his life — whether his friends and family like it or not — in the new Netflix series After Life, Deadline Hollywood reports. Created, executive produced, directed by and starring Gervais, the six, half-hour episode season is also executive produced by long-time collaborator Charlie Hanson (Derek, Extras).
Gervais's next turn at series work follows Tony, who had a perfect life; but after his wife Lisa suddenly dies, Tony changes. After contemplating taking his own life, he decides instead to live long enough to punish the world by saying and doing whatever he likes from now on. He thinks it's like a super power — not caring about himself or anyone else — but it turns out to be tricky when everyone is trying to save the nice guy they used to know.
Though Netflix is officially making the announcement today, Gervais couldn't help but spoil those formalities with his own "announcement tweet" two days ago:
"I start pre production on my new Netflix show tomorrow. It's a 6 part, dark comedy, in which I play a man who, after the death of his wife, becomes suicidal but decides to live long enough to punish the world by saying and doing whatever the fuck he likes from now on"
In what can best be seen as absolutely no surprise to anyone who's a fan of Gervais, the project is already being swallowed up by a sea of guesses and assumptions — putting him in a position of having to defend a project that no one knows anything about yet. It appears Gervais is taking it all in stride:
Gervais and Netflix have had a very successful relationship over the past few years: Special Correspondents; The Office spin-off film David Brent: Life on the Road and Derek. Netflix released Humanity, his most recent stand-up special, in March 2018; with a second special set for later this year.