Lucifer, Rick and Morty, GOT, TWD & More: What The World's Watching
Welcome back to Bleeding Cool TV's look at what the world's been watching over the past thirty days- and there are definitely some surprises on a whole number of fronts. From Rick and Morty and Brooklyn Nine-Nine to Lucifer and Attack on Titan… from The Boys and The Flash to The Walking Dead and Game of Thrones– it's an interesting mixed bag of current, semi-current, and long-off-the-air shows that answers a number of questions you might have. Like, "Why is HBO Max being so patient with the 'Friends' reunion?" and "Why won't HBO redo the last season of 'Game of Thrones'?".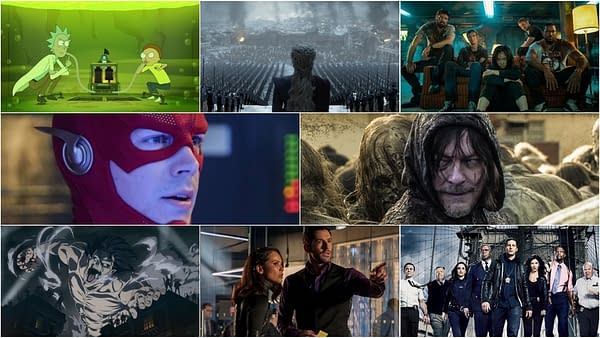 So here's a look at the Top 25 shows that the world's been watching over the past 30 days (with a little commentary here and there to offer our two cents)- and a special thanks to Parrot Analytics (the fine folks who do all the hard work putting all of the data together- more on that in a minute):
25 Billions Showtime
24 "Brooklyn Nine-Nine" FOX (Expect to see interest grow now that final final season was announced)
23 Breaking Bad AMC
22 Peaky Blinders BBC Two
21 "Rick and Morty" Adult Swim (Summer 2021 will be big when Rick and Morty return with Season 5)
20 "Lucifer" Netflix (Like with B99, expect to see this skyrocket with its final 1-1/2 seasons)
19 "Friends" NBC (In case any of you were wondering why HBO Max was willing to be patient for the reunion.)
18 The Good Doctor ABC
17 The Crown Netflix
16 "The Boys" Amazon Prime Video (Of all the "dysfunctional superhero" shows, the one with serious staying power.)
15 The Big Bang Theory CBS
14 Grey's Anatomy ABC
13 La Casa De Papel (Money Heist) Netflix
12 "WWE Monday Night Raw" USA Network (A glimmer of hope for Vince, Triple H, and Steph)
11 The Mandalorian Disney+
10 SpongeBob SquarePants Nickelodeon
9 "Stranger Things" Netflix (…and when was the last time it had a new episode air? Eerily impressive.)
8 My Hero Academia YTV
7 "Shameless" Showtime (Expecting this to start dropping once "out of sight, out of mind" kicks in.)
6 "The Flash" The CW (One of the final foundations of The CW's Arrowverse continues showing its viability.)
5 "The Walking Dead" AMC (Why AMC doesn't give two s**ts about same-day ratings- still a global juggernaut.)
4 "Game Of Thrones" HBO (For those you who think Season 8 needs to be redone? This is HBO's answer.)
3 "The Falcon And The Winter Soldier" Disney+ (Still a strong showing but not enough to dethrone big sis…)
2 "WandaVision" Disney+ (Interesting how the Marvel Studios kick-off series is still trending hotter than FAWS.)
1 "Attack On Titan" (進撃の巨人) MBS (The global phenomenon keeps being phenomenal- and there's still 2022.)
Just so you know how the fine folks over at Parrot Analytics operate, the service we use offers a look at the Top 20 shows across 100 streaming, cable, and linear television channels- whether over the past 24 hours or the past 30/60/90 days. The global rankings include every television, cable, and streaming series in 46 markets: Argentina, Australia, Austria, Belgium, Brazil, Canada, Chile, Colombia, Czech Republic, Denmark, Ecuador, Estonia, Finland, France, Germany, Greece, Hungary, India, Indonesia, Ireland, Italy, Japan, Latvia, Lithuania, Malaysia, Mexico, Netherlands, New Zealand, Norway, Peru, Philippines, Poland, Portugal, Romania, Russia, Singapore, South Africa, South Korea, Spain, Sweden, Switzerland, Thailand, Turkey, United Kingdom, United States, and Venezuela.
Monitored shows are also divided by genre: Drama, Comedy, Reality, Documentary, Action, Adventure, Animation, Children, Variety, and Horror. Analysis of a show's social media engagement, search activity, downloads/stream, etc., also helps to determine a show's "heat' factor as well as their respective staying power (longevity) and franchise/spinoff potential.