Lucky Hank Teaser: Bob Odenkirk's Hank Devereaux Is A "Talented" Man
With the Bob Odenkirk-starring series set to hit AMC/AMC+ on March 19th, here's a look at the newest teaser for Lucky Hank.
---
With only a little more than two weeks to go before Bob Odenkirk's first post-Better Call Saul series for AMC/AMC+, Lucky Hank (previously titled Straight Man), hits our screens, we're getting another chance to really get to know Odenkirk's Prof. William Henry "Hank" Devereaux, Jr. The midlife crisis tale is set at Railton College and told in the first person by Hank, the unlikely chairman of the English department in a badly underfunded college in the Pennsylvania rust belt. As we've seen already from the previously-released teaser and official trailer, Hank isn't exactly liked by everyone around him. And as you're about to see, he gives them some very good reasons not to…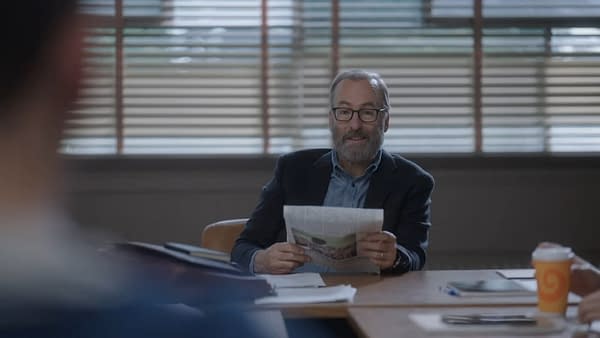 Co-starring Mireille Enos (The Killing), here's a look at the newest teaser (followed by a look back at what we know about the series so far):
AMC's Lucky Hank: A Look at What We Know…
With the AMC/AMC+ series making its world premiere at South By Southwest (SXSW) in Austin on Saturday, March 11, here's a look at the official trailer for Lucky Hank (going big on March 19th, and also airing on BBC AMERICA, IFC, and SundanceTV):
And for an even better sense of what Odenkirk's Prof. Devereaux, Jr. is all about, check out these previously-released previews for Odenkirk's upcoming return to AMC:
"I am thrilled that AMC is embracing the unique scenario and characters in Paul and Aaron's adaptation of 'Straight Man' [show's original title]," Odenkirk shared in a statement at the time that the series order was first announced. "I have loved the mix of comedy and drama in 'Better Call Saul,' and this is another story with a unique dynamic and the kind of closely observed character writing and exploration that AMC has become the touchstone for. It's going to be fun to play and watch!" Aaron Zelman (Silicon Valley, The Killing) and Paul Lieberstein (The Office, The Newsroom), who adapted the project from the novel Straight Man by Pulitzer Prize-winning author Richard Russo, serve as co-showrunners. Zelman, Lieberstein, Odenkirk, Director Peter Farrelly (Green Book), Mark Johnson (Breaking Bad, Better Call Saul, Anne Rice's Interview with the Vampire), Richard Russo, Naomi Odenkirk and Marc Provissiero (PEN15) are executive producers.