Martin Freeman Says Sherlock Isn't Fun Anymore
Martin Freeman has been doing the press tour in support of Black Panther. The actor reprises his role as Everett K. Ross that he first played in Captain America: Civil War. And while Freeman has had many high-profile roles, including his long run in the original British version of The Office and playing Bilbo Baggins in the three Hobbit films, he will always get asked about Sherlock.
The series debuted in 2010 with Benedict Cumberbatch as Sherlock Holmes and Freeman as Dr. John Watson. The series was an instant success and has gone four seasons and a special. But the question everyone keep asking is: when we might see season 5? The problem is that both Freeman and Cumberbatch are in great demand — Cumberbatch also joined the MCU and will be playing Doctor Strange again in the upcoming Avengers: Infinity War. But scheduling isn't the only problem.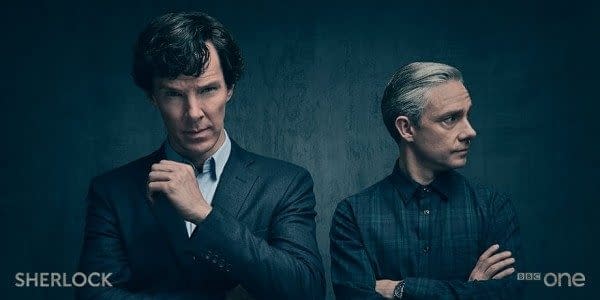 In an interview in The Telegraph, Freeman was asked if there were any talks about a fifth season.
Not massively. Um… I think after series four [it] felt like a pause. I think we felt we'd done it for a bit now. And part of it, speaking for myself is [due to] the reception of it.
The article explained that he was referring to the most recent season and how it had a problem living up to fans' expectations.
To be absolutely honest, it [was] kind of impossible. Sherlock became the animal that it became immediately. Whereas even with [the U.K. version of] The Office, it was a slow burn. But Sherlock was frankly notably high quality from the outset. And when you start [that high] it's pretty hard to maintain that. Being in that show, it is a mini-Beatles thing. People's expectations, some of it's not fun anymore. It's not a thing to be enjoyed, it's a thing of: 'You better f—ing do this, otherwise, you're a c—.' That's not fun anymore.
Here's hoping that after a bit of a break, they'll find the fun in it again.