Marvel's Cloak and Dagger Season 1: Tyrone Has Something for Evita
It's interesting in that in the comics, Tyrone Johnson has a bad stutter that keeps him from saving his best friend and starts him on the path to becoming Cloak. But in the Freeform series Marvel's Cloak and Dagger, Tyrone (Aubrey Joseph) doesn't have the stutter, he isn't a runaway, and he's doing pretty well with the ladies.
However, he does see his unarmed brother get shot by a cop, and he went through some kind of incident with Tandy Bowen (Olivia Holt) when they were both eight years old. Now a teenager, Tyrone is on the high school basketball team, has a girl that likes him, and has his life ahead of him… but he's still focused on his brother's killer. And now that Tandy is back in his life, things are getting stranger all the time.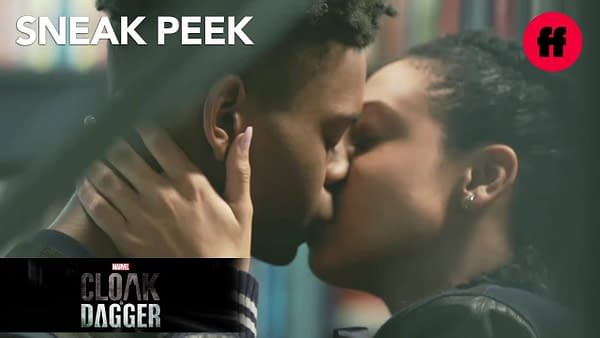 In a second sneak peek for this week's new episode, we see Tyrone meeting with Evita Fusilier (Noëlle Renée Bercy) before the game in the priest's office where he offers her his Letterman's jacket. We pick up from the scene that there was some discussion about this already and he was hesitant at the time, but now he is ready. She teases him a bit, but she takes the jacket.
Marvel's Cloak and Dagger airs tonight at 8 p.m. ET on Freeform.