Marvel's Cloak & Dagger: Tandy Bowen Explains Part of Her Powers
Freeform has released a new sneak peek clip from tomorrow night's episode of Marvel's Cloak & Dagger called Call/Response. The clip shows Tandy Bowen (Olivia Holt) and Tyrone Johnson (Aubrey Joseph) talking about their powers. This is the first chance for the two to sit down and talk as they've spend the first three episodes dealing with their own issues and discovering they have powers.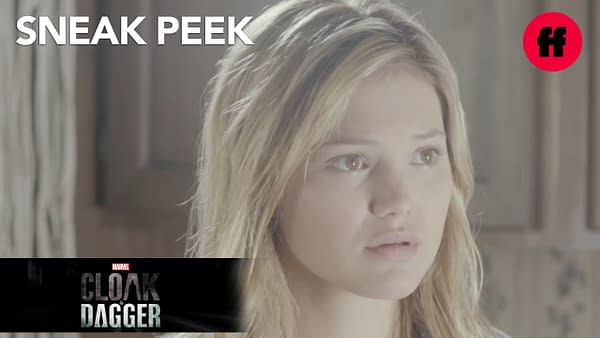 The synopsis for the episode reads:
Tandy and Tyrone come face-to-face. Otis reveals a secret side. Greg makes a discovery in Melissa's case against Roxxon.
In the clip we see Tandy and Tyrone talking and it sounds like he's just explained that he sees people's worst fears, so she tells him that she sees their hopes and we see her trying to read Greg (Gary Weeks), her mom's new boyfriend and lawyer. The scene we get shows them cooking in the kitchen and talking about the new house they're buying as a family. Greg seems to genuinely care for her mother and that he might be a good guy. Which likely means, with the tone of the series, he's probably going to get killed or corrupted by someone.
Marvel's Cloak & Dagger airs Thursdays at 8 PM on Freeform.