Melissa Benoist on Playing Supergirl and Singing Sad Songs at Disneyland
Most people first got to know Melissa Benoist from her role on Glee from 2012 to 2014 and then he jump to starring as Kara Danvers in Supergirl. But she stated off dancing and singing at a very young age. Benoist was on Jimmy Kimmel Live last night where she talked about how she got started back home Colorado and ended up as a kid signing Send in the Clowns at Disneyland. Jimmy Kimmel also brought up the fact that they've traded tweets, including one of Kimmel's daughter done up as Supergirl for Halloween.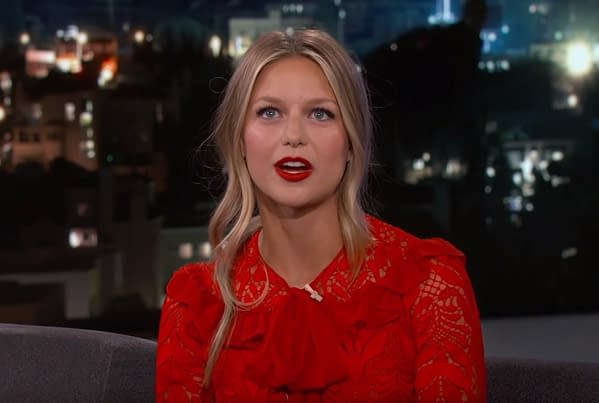 Benoist is on the show to promote an upcoming miniseries about Waco where she plays Rachel Koresh, the first wife of cult leader David Koresh. But she spend a while talking about the best parts of playing Supergirl, the fact she gets to fly, and that when she first got the job she had to basically go to school on how to walk and move liked a superhero. And she explains that the Supergirl costume is basically a corset, keeping her back straight through filming… and that now she has awesome posture because of it.
Supergirl airs Mondays at 8 p.m. ET on the CW. Waco premiers January 24th on the new Paramount Network (formerly Spike).