Misty Knight Takes Center Stage in New Marvel 101
There have been a lot of stories this week about Marvel's Luke Cage, and there will probably be a lot more through the weekend because most of the regular network television has gone on summer break. But also because the Marvel/Netflix series have mostly been highly anticipated and well received by fans. (Yes, we remember Iron Fist.)
The reaction to Luke Cage season 1 was mostly positive, though some felt it lost its way near the end and suffered a bit when the villain switched from Cottonmouth to Diamondback. But folks are eager to see what is up with Mariah Dillard, Shades, and newcomer Bushmaster. We also want to see how Misty Knight will deal with having lost an arm in Marvel's The Defenders.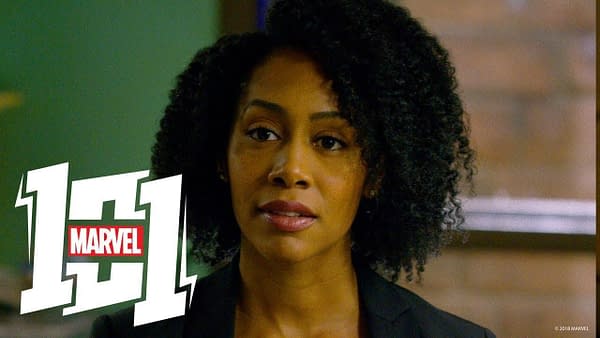 To help prepare everyone, they've been using Marvel 101 to recap certain characters from the first season. They started with Hernan "Shades" Alvarez (Theo Rossi), who played a key role in the creation of Luke, and then they focused on Luke Cage (Mike Colter) himself. Today they have released a new Marvel 101 focused on Misty Knight (Simone Missick) and her journey from police detective to Daughter of the Dragon.
Misty first appeared in Marvel Premiere #21 by Tony Isabella and Arvell Jones. In the comics she was an NYPD Detective her lost her arm during a bombing attack and left the force to become a private detective. She stayed good friends with her former partner Rafael Scarfe, got a new bionic arm from Tony Stark, became romantically linked to Iron Fist, and was Marvel Girls roommate for a while when she left the X-Men. She eventually formed Knightwing Investigations with Colleen Wing, where they ended up being dubbed Daughters of the Dragon. The Netflix series has done a pretty good job keeping important elements of her origin while fitting it into their combined universe.
Marvel's Luke Cage season 2 premieres Friday, June 22nd on Netflix.