Mobile Suit Gundam: The Witch from Mercury English Dub Cast Set
Crunchyroll announced the official English dub cast for Mobile Suit Gundam: The Witch from Mercury, which debuts on February 5th.
---
Crunchyroll announced the full English language dub cast for Mobile Suit Gundam: The Witch from Mercury, the latest series in the unstoppable Mobile Suit Gundam series. There's a new series every year with a new story and cast of teenagers in the war forced to pilot giant mech robots designed to look like they wear samurai armour. The Gundams remain the best-designed mecha which is why the model kits and toy sales are through the roof. The big difference with this series is the main character is female, and there's an LGBTQ love story at its centre.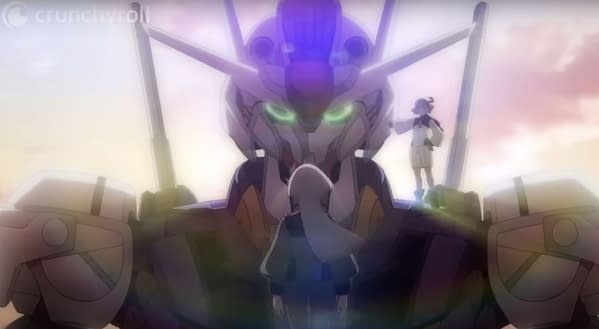 Hiroshi Kobayashi, who directed TRIGGER's original anime KIZNAIVER, is helming Mobile Suit Gundam: The Witch from Mercury at Bandai Namco Filmworks anime studio brand Sunrise alongside Code Geass co-creator Ichiro Okouchi as scriptwriter and series composer. As the synopsis goes, "A.S. (Ad Stella) 122― An era when a multitude of corporations have entered space and built a huge economic system. A lone girl from the remote planet Mercury transfers to the Asticassia School of Technology, run by the Beneritt Group which dominates the mobile suit industry. Her name is Suletta Mercury. With a scarlet light burning in her pure heart, this girl walks step by step through a new world."
"Mobile Suit Gundam: The Witch From Mercury" English Dub Cast
Suletta, voiced by Jill Harris (Nino in The Quintessential Quintuplets)
Miorine, voiced by Natalie Van Sistine (Yor in SPY x FAMILY)
Prospera, voiced by Elizabeth Maxwell (Zephia in Fire Emblem Engage)
Guel, voiced by Bradley Gareth (Jyubei in BLUELOCK)
Elan, voiced by Aaron Dismuke (Senku in Dr. STONE)
Chuatury, voiced by Brittany Karbowski (Camie in My Hero Academia)
Nika, voiced by Bryn Apprill (Kobeni in Chainsaw Man)
Shaddiq, voiced by Alejandro Saab (Cheng in Link Click)
Delling, voiced by Gabe Kunda (Desha in Ranking of Kings)
Vim, voiced by Christopher R. Sabat (Vegeta in Dragon Ball Super)
Nuno, voiced by Eric Vale (Sanji in One Piece)
Lauda, voiced by Nazeeh Tarsha (Kamioka in Horimiya)
Lilique, voiced by Sara Ragsdale (Maria in Tomodachi Game)
Petra, voiced by Kimberly Grace (Hachi in My Roommate is a Cat)
Felsi, voiced by Alexis Tipton (Anna in takt op. Destiny)
Rouji, voiced by Kristin Payne
Secilla, voiced by Cassie Ewulu (Akira in Kemono Jihen)
Sarius, voiced by Mike Smith (Cucuruz Doan in Mobile Suit Gundam: Cucuruz Doan's Island)
Rajan, voiced by Ian Sinclair (Einar in VINLAND SAGA)
Haro, voiced by Jerry Jewell (Kyo in Fruits Basket)
English Dub Crew
ADR Director: Jason Lord
Assistant ADR Director: Aaron Roberts
ADR Engineer: Noah Whitehead
Assistant ADR Engineer: Coco Caesar
Script Supervisors: Bonny Clinkenbeard, Jarrod Greene
ADR Scriptwriter: Alex Mai
ADR Prep: Olivia Harris
Mobile Suit Gundam: The Witch from Mercury English dub begins streaming on Crunchyroll on February 5th.