"Monsters at Work": Ben Feldman Introduces Tylor Tuskmon, Eager & Talented Mechanic!
Though an "unapproved asset" coming out of Disney's turn at Annecy Intl. Animation Festival yesterday nearly ruined the reveal, some quick clean-up put the genie back in the bottle (kinda'). On Wednesday, Ben Feldman took to social media to officially introduce the world to Tylor Tuskmon, eager and talented mechanic in Monsters at Work, the upcoming animated Monsters, Inc. sequel series for upcoming streaming service Disney+.
Here's a look at the new addition to the Monsters, Inc. universe, followed by Feldman's Instagram message: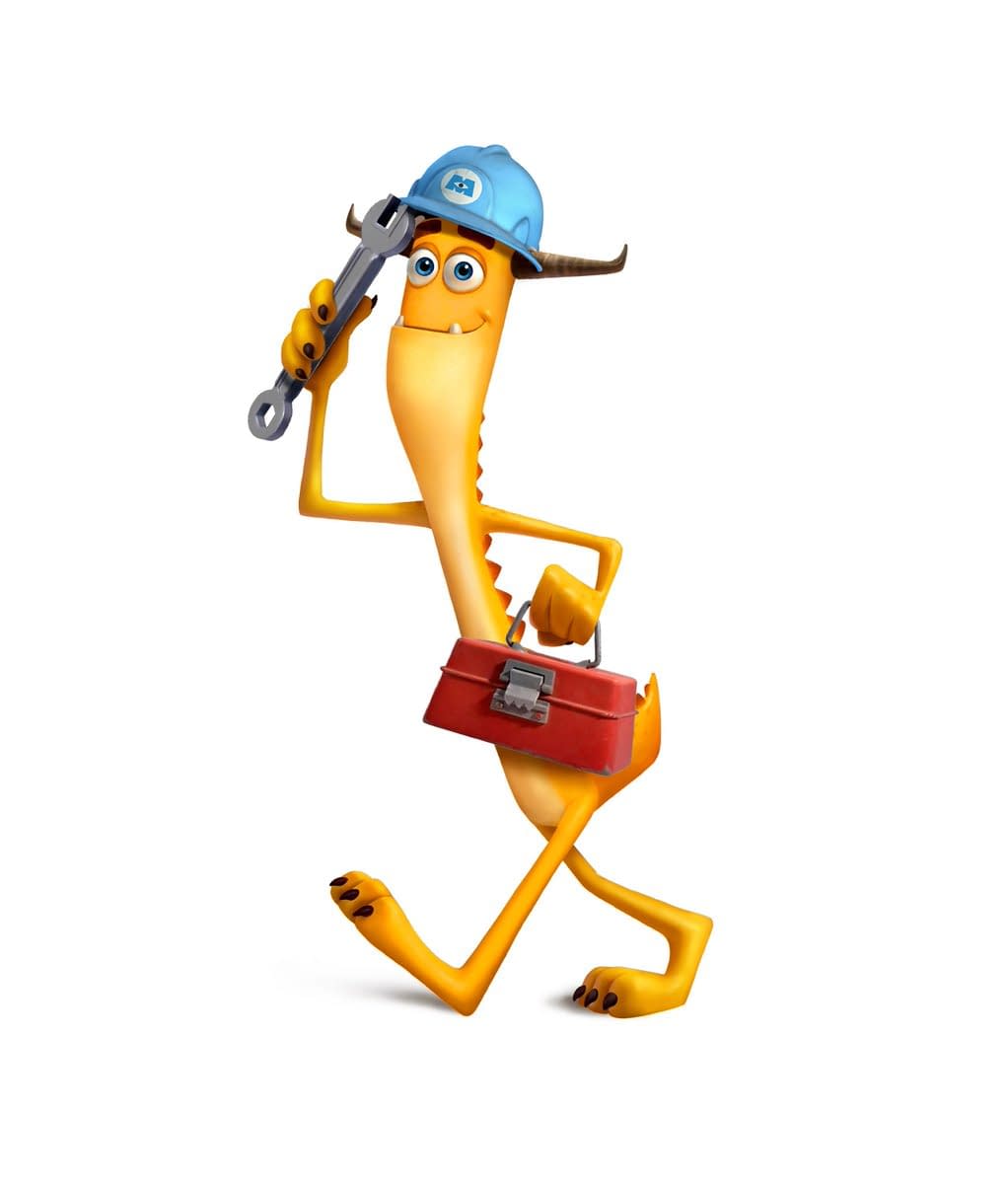 "So I couldn't be more excited to finally show you this 1st look painted rendering of me, Tylor Tuskmon, the eager & talented mechanic on #MonstersAtWork -an original #DisneyPlus series coming in 2020. This show is crazy fun & I'm so hyped to have finagled my way into the @disney fam. -also if I'm not really your thing, Mike & Sully from the other Monsters movies are back too so relax"
Here's a look at Feldman's Twitter reveal, too:
Produced by Disney Television Animation with animation production by Montpellier-based Dwarf Animation, the series sees Billy Crystal and John Goodman return to their respective rolls as Mike and Sulley, with the story picking up six months after the original film ended. Now that the factories of Monsters, Inc. no longer harvest screams and instead run on the energy of laughter, a new generation of workers who fancy themselves as funny look to shine. Tylor Tuskmon (Feldman), an eager and talented young mechanic on the Monsters, Inc. Facilities Team (MIFT), dreams of working his way up to the factory Laugh Floor to become a Jokester alongside his idols Mike and Sulley.
Monsters at Work also star Kelly Marie Tran (Star Wars: The Last Jedi) as Val Little, Tylor's lifelong friend and confidante; Henry Winkler (Barry) as Fritz, the scatterbrained boss; Lucas Neff (Raising Hope) as Duncan, an opportunistic plumber; Alanna Ubach (Coco) as Cutter, the officious rule follower; and Stephen Stanton (Star Wars Resistance) as Smitty and Needleman, the bumbling custodial team – with Aisha Tyler (Archer) voices Tylor's mom, Millie Tuskmon.

Joining the returning Crystal and Goodman are original cast members John Ratzenberger as Yeti and the new character, Bernard; Jennifer Tilly as Celia Mae; and Bob Peterson as Roze, twin sister to his original character, Roz.
Monsters at Work was developed and is executive produced by Disney animation veteran Bobs Gannaway (Mickey Mouse Clubhouse, Planes: Fire & Rescue) with Ferrell Barron (Planes: Fire & Rescue) serving as producer.