"Mr. Robot" Season 4: "Silver Bells"… Dark Army Smells… Elliot Has a Plan [TEASER]
It's beginning to look a lot like Mr. Robot – mas!
Yes, in case you weren't already aware, the upcoming fourth and final season of USA Network's hacker thriller drama is set in the most wonderful time of the year.
Christmas is coming early, but that doesn't mean everything is all tinsel and twinkling lights for Elliot, Darlene, and the rest of our hack-tivist heroes behind the five/nine attacks. But just because things aren't so great for them doesn't mean we can't enjoy their suffering – in a good way!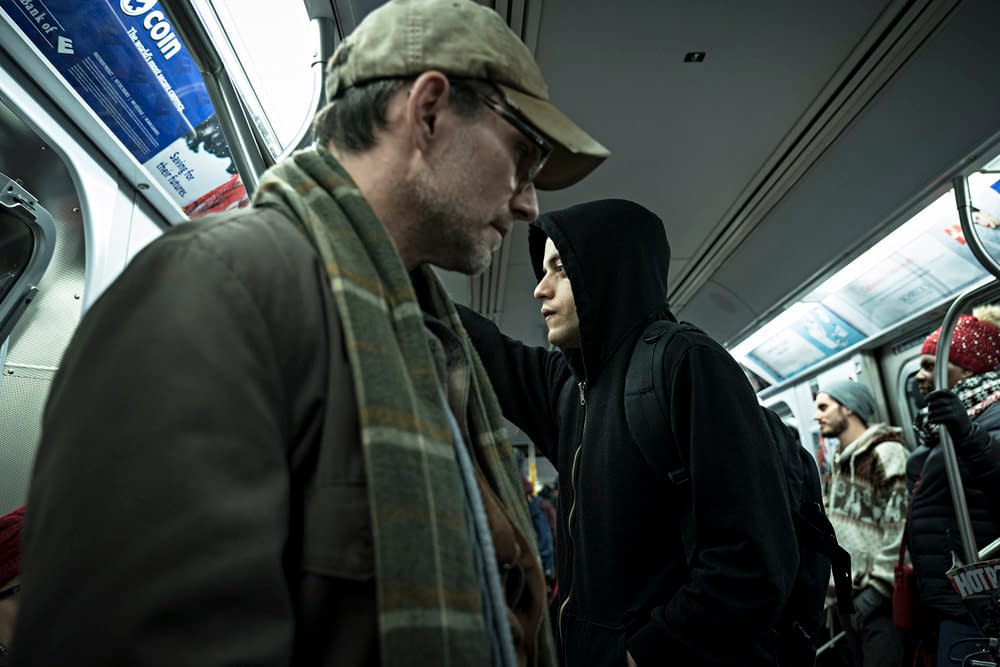 USA Network revealed a very special online "advent calendar" site that helps viewers count down to the season premiere on October 6 – bringing viewers a daily "holiday gift" for us, the loyal and antsy fan base.
The first gift found dangling on the Mr. Robot "Tree of Materialism" is a new teaser trailer!
What follows is a minute-long montage of clips from the upcoming season set to the classic Christmas song "Silver Bells" – though we're not sure we'll ever hear that song in the same way again after this:
https://www.youtube.com/watch?v=onLTF6iytxo
"Mr. Robot" season 4, episode 1: "Unauthorized": xmas time. elliot+mrrobot are BAK. darlene deals with real sh*t. tyrell's bored. dom's paranoid AF.
Each day, the site is set to release a new "gift" that could be content, giveaways, or exclusives. Does the noon release time have any particular significance? Will we have to be stuck to our phones checking the site at exactly that time to have a chance at winning cool stuff?
Nobody really knows, and it wouldn't be Mr. Robot if they didn't keep us guessing – but I don't mind. It's just more content for us, and potentially the last round in the elaborate games and viral hacker-themed marketing sites designed to promote the show and make the diehard fans "work" a little for the extras.
I'm going to miss Mr. Robot – unraveling the mysteries buried in code as well as the overall the secrets of the show. It looks like this last season won't disappoint – and it shouldn't, since they clearly took extra time crafting it.
"The 12 days of Mr. Robot" are upon us, so keep checking back with Bleeding Cool every day as we let you known if the next gift's a keeper – or added to the "re-gifting" pile.
Maybe tomorrow's present is a new pair of socks!