"Mr. Robot" Season 4 Teaser: So Was It All Worth It, Elliot? [PREVIEW]
Finally! We have an air date for the fourth and final season of USA Network's Mr. Robot!
Well…kind of. Before we get into breaking down the teaser (which is only 50 seconds, but a highly-anticipated 50 seconds), let's go over what we know about the upcoming season so far.
We know that it's set in Christmas of 2015, but whether that's all of it or only parts, we still don't know. It was likened to "one long Christmas special" by show creator Sam Esmil, so there is that ringing endorsement for all of it to be set at Christmas… but is it all Christmas 2015?! We also know that the season will feature plenty of action, hacking, and blood, according to interviews with someone who would definitely know: Rami Malek.
So now that we're caught up on what we know so far, let's dive into what the trailer shows us, shall we?
It's not a whole lot, unfortunately, but we do get a shot of a not-quite-so-weathered Elliot (Malek) sitting in a decked out living room as a female voice narrates – it could either be Angela or Darlene (though my money's on the latter).
The main question posed to him is "was it all worth it?" – and judging by everything we've seen of him as well as his expression in the clip, he has absolutely no idea if the means even begin to justify the end.
But at the end, we get something special: an air date!
"Coming This Fall"… ?!?!?
Great, more cryptic non-committal scheduling – but I suppose we should focus on the positive: at least we don't have to wait until our actual Christmas!
Just please give us an ending deserving of this well-written series… please!
All signs so far are positive, which is a big plus. Really though, I'm just hoping for anything better than Dexter.
Anything… please…
Mr. Robot follows Elliot Alderson (Malek), a cyber-security engineer who, along with Mr. Robot (Christian Slater) and fsociety, starts a revolution to change the world. The upcoming fourth and final season picks up where the third season finale left off, delving into the pros and cons of Elliot hitting "send" on the email that could reverse 5/9.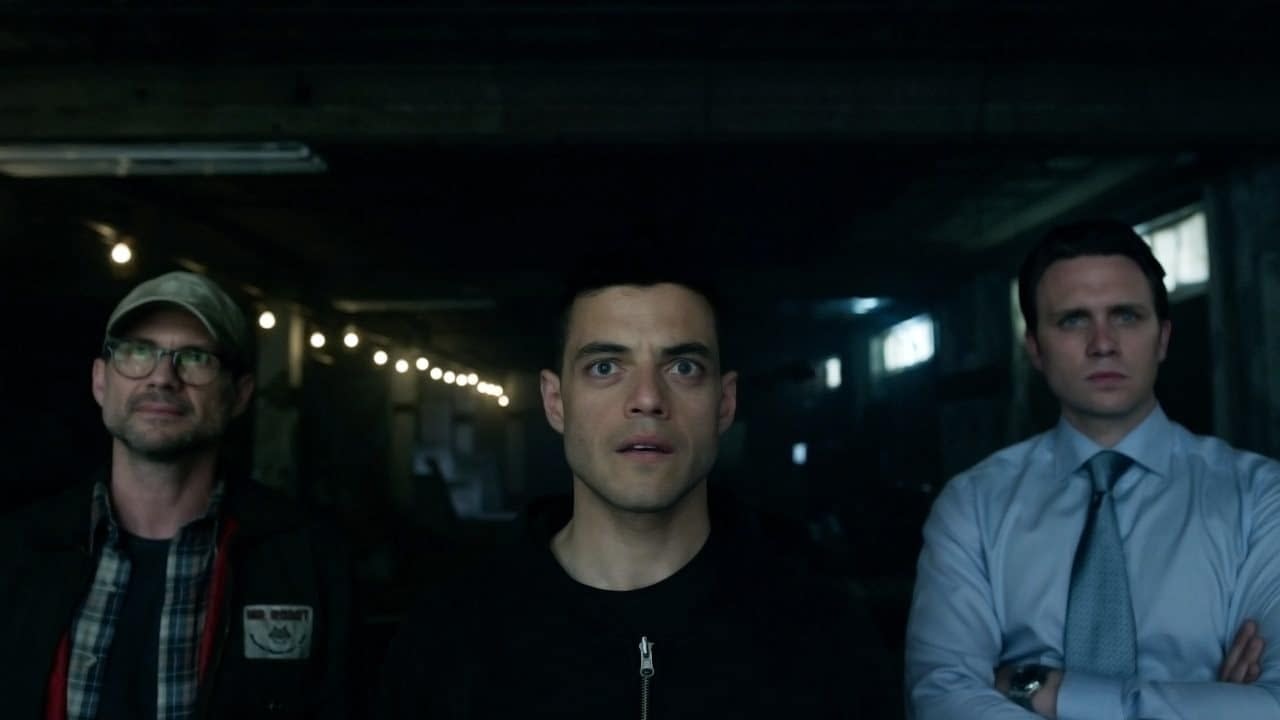 Joining Malek and Slater are Carly Chaikin, Portia Doubleday, Martin Wallström, Grace Gummer, Michael Cristofer, and BD Wong. Mr. Robot stems from writer, director and executive producer Sam Esmail, as well as Anonymous Content executive producers Steve Golin and Chad Hamilton.