"MST3K" Announces Their Annual Turkey Day Event For 2019
It's that time of year. Time to forget your family for a sec on Thanksgiving and watch some of MST3K's annual Turkey Day marathon. For those of you looking for more humor than you are football, or just want a viewing option that will make you laugh and take you back to the marathons of old, they got you covered. MST3K will be rolling six classic Mystery Science Theater 3000 episodes for you to enjoy, starting from 12pm EST. What those episodes will be is still a mystery, as you'll have to tune in and find out.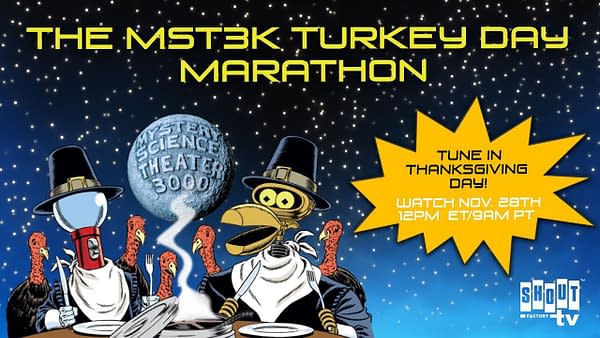 The stream will be live on YouTube and Twitch, as well as PlutoTV, XUMO, Samsung TV Plus, Stirr, and Shout! Factory's Android app. Here's a fun little trailer to help promote it as well, with your old friends Crow T. Robot and Tom Servo.