NASA Finds "Star Trek" Image On Mars – Your Move, Lucasfilm
Do you believe in coincidences? Before you answer… this week, super smart scientists at the University of Arizona working on the HiRISE (High Resolution Imaging Science Experiment) project announced a very pop-culture-relevant discovery. Their HiRISE camera (part of the Mars Reconnaissance Orbiter) took a picture of "dune casts" on the surface of Mars that look remarkably similar to the Starfleet logo from Star Trek.
While the scientists claim that the phenomena is naturally occurring and any similarity to the Starfleet badge a "coincidence," the CBS All Access public relations team are likely attempting to take at least some of the credit.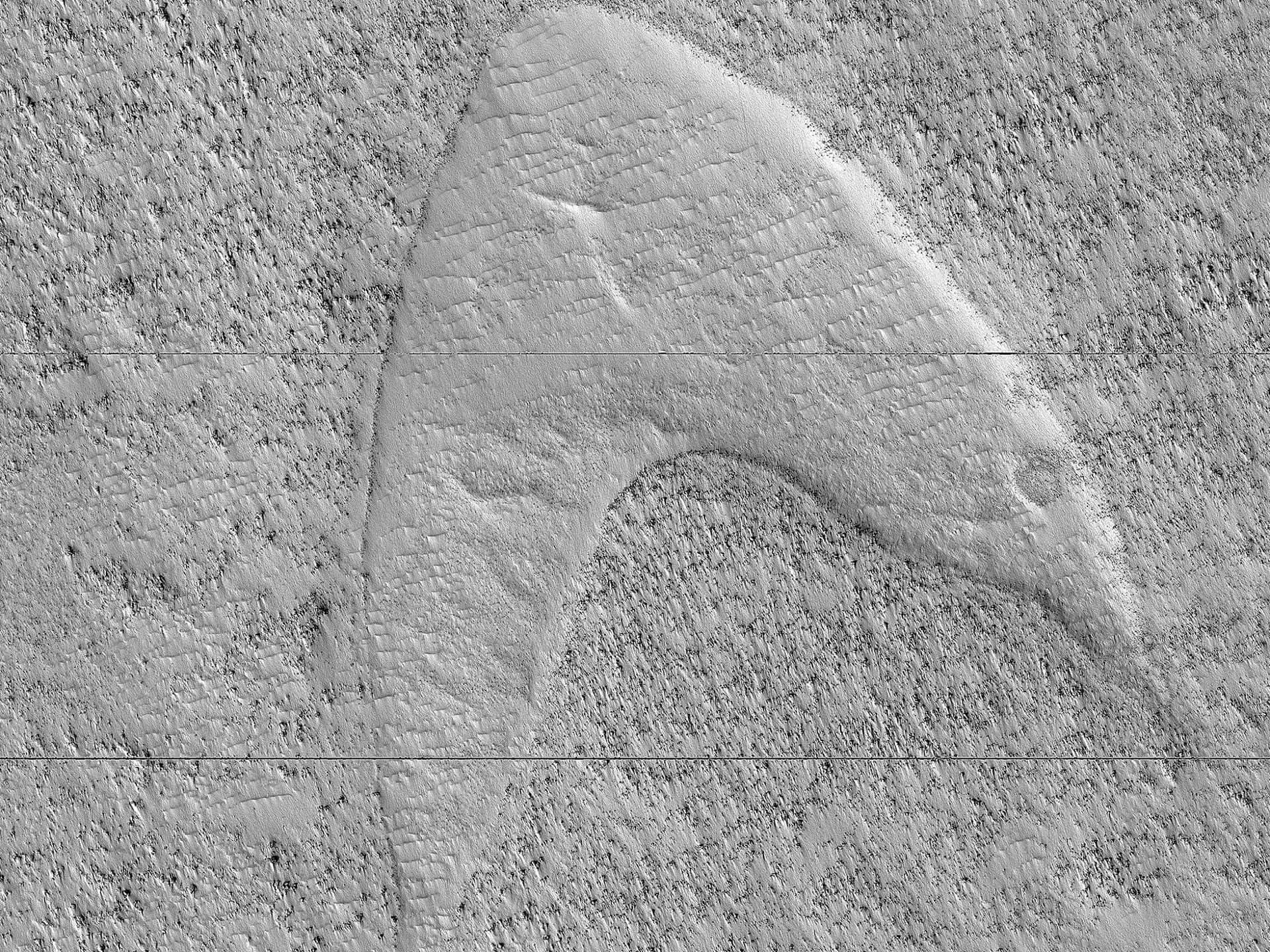 Acquired on April 22, 2019, but not published by the HiRISE team until June 10, the image is of the southeast Hellas Planitia on Mars. The shape is reportedly "the result of a complex story of dunes, lava, and wind." Co–Investigator Ross Beyer expanded the explanation, noting:
"Long ago, there were large crescent-shaped (barchan) dunes that moved across this area, and at some point, there was an eruption. The lava flowed out over the plain and around the dunes, but not over them. The lava solidified, but these dunes still stuck up like islands. However, they were still just dunes, and the wind continued to blow. Eventually, the sand piles that were the dunes migrated away, leaving these "footprints" in the lava plain. These are also called "dune casts" and record the presence of dunes that were surrounded by lava."
A plausible explanation… we guess…
However, every Star Trek fan in the Universe has to be wondering if maybe… possibly… the life on Mars is trying to send us a message. At some point, did we beam Star Trek episodes into space? Are there little green Trekkies running around on Mars? The great thing about new discoveries and images is how little we know and how much we can imagine.
But you have to admit, this is pretty good PR for Star Trek. I am willing to bet that at this very moment, some intern at Lucasfilm is researching "how to create an image on Mars" for Kathleen Kennedy.
May the force be with them.
In the meantime, I wonder if NASA is going to find the Klingon Empire insignia next…