New Amsterdam Team Talks COVID-19 Impacting Season 3 Storylines
NBC's New Amsterdam was one of the dozens of television productions that were impacted by the COVID-19 pandemic back in late February/early March. Aside from the planned pandemic-themed season finale being scrapped for obvious reasons and the season not ending on the note it originally intended, the health crisis hit close to home as several members of the show's crew as well as recurring star Daniel Dae Kim tested positive. Now as productions begin to work with the states to determine when and how to resume, the show's executive producers and stars are discussing how real-world health matters will impact the series for the third season and beyond.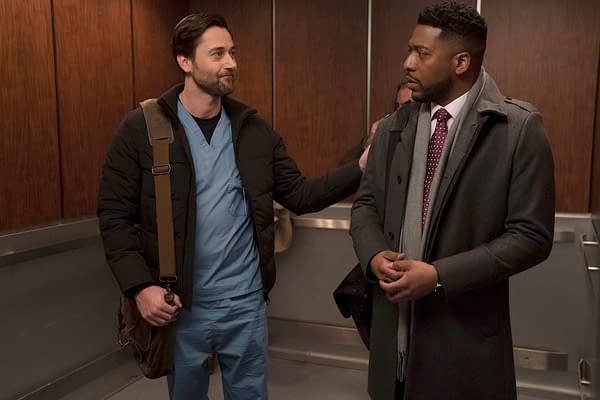 At a YouTube conversation as part of the ATX Television Festival's live feed on Saturday, director and EP Peter Horton moderated a panel that included stars Ryan Eggold and Jocko Sims, writer and consulting producer Erika Green Swafford, writer/EP David Foster, and 18th Surgeon General of the United States Dr. Regina Benjamin. For Horton, dealing with the coronavirus in the seasons' storylines is as essential as it was to deal with issues like the Vietnam War, AIDS, etc.: "I, like a lot of you, grew up in a time of stakes. There was the Vietnam War, there was the Cold War, all the assassinations, Watergate, and storytelling in that time really reflected that reality. Storytellers needed to speak to that time because the stakes were so high. We happen to be a show uniquely situated for this particular situation. [The series is based on] the Bellevue Hospital, which is at the epicenter of the COVID outbreak, so we are telling stories from the very epicenter of the situation we find ourselves in."
For Eggold, the series has a responsibility to demonstrate not only the importance of good leadership but to also show what that means s well as what it looks like when quality leadership is lacking: "I think one of the ways we've grown in the show is not making Max's solution to these large, complicated issues too easily afforded or overly simplified. [There's] the opportunity to discuss solutions in a realistic way, [with] transparency. Without getting overly political, one thing that's nice about [Governor] Cuomo's leadership in New York is him saying, 'This is what's happening. These are the issues,' whereas [with] the national leaderships, it's perhaps less so. But there is the opportunity with this story and this character to show what good leadership might look like, and the best way to tackle issues that might help everyone."
With Dr. Reynolds' storyline cut short by the production shutdown, denying viewers of a resolution to the move-to-San-Francisco dilemma until the third season, Sims still isn't sure what the future holds for his character. But if the good doctor does find his way back home, the actor has some thoughts on how it would change him: "Hypothetically, if Dr. Reynolds were to stick around, there's all sorts of things I could bring to the character. What comes to mind is just my own physical health, being a Black male, or someone who comes from a family with a history of diabetes and high blood pressure. Being able to bring these real-life situations into the character, and into the story, there's definitely a lot there."
In the wake of the ambulance crash that ended season one of "New Amsterdam," medical director Dr. Max Goodwin must grieve the death of someone close to him while continuing his commitment to solve systemic health care issues at the hospital. Add his new responsibilities as a father and his cancer still lingering in the rear-view mirror, everyone around Max has to wonder how long he can sustain this impossible load. But, "How can I help?" is not just Max's catchphrase, it's his reason for living. As long as he's helping others, he's able to find hope in the most hopeless of places.
Created by David Schulner, the NBC series stars Ryan Eggold, Janet Montgomery, Freema Agyeman, Jocko Sims, Tyler Labine, and Anupam Kher. Series creator David Schulner executive produces alongside Peter Horton, Michael Slovis, and David Foster. Universal Television, Pico Creek Productions, and Mount Moriah share production. New Amsterdam is inspired by Dr. Eric Manheimer's memoir Twelve Patients: Life and Death at Bellevue Hospital and his 15 years as medical director at the hospital.