Nickelodeon Went Dark For George Floyd and Some Parents Didn't Approve
On Monday, ViacomCBS offered on-air support to the late George Floyd and the protests taking place across the globe over his killing at the hands of Minneapolis police officers. For 8 minutes and 46 seconds (the length of time police officer Derek Chauvin held his knee on Floyd's neck), Nickelodeon, MTV, and other ViacomCBS networks went dark. In place of their respective regularly-scheduled programming, the words "I Can't Breathe" would fade on and off the screen. The sound of heavy breathing can be heard throughout, along with a request for viewers to become a part of Color of Change's mission of criminal justice reform.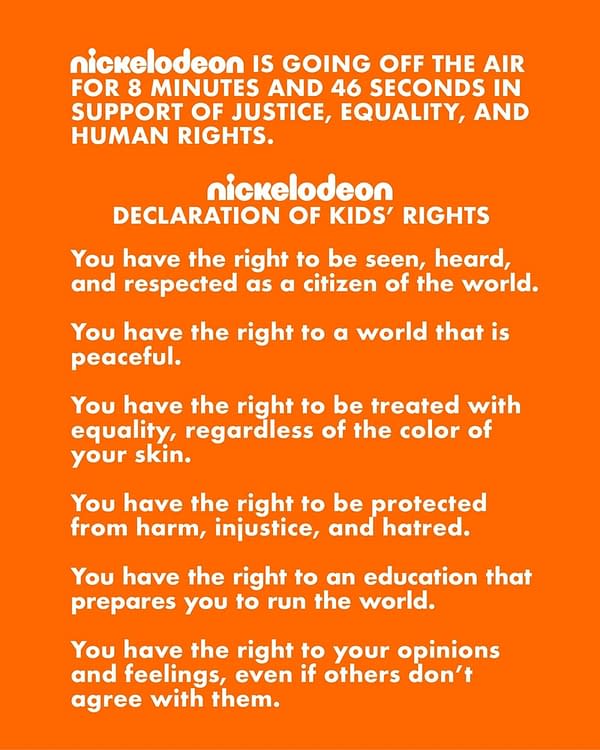 Of course, there were parents who called into question whether airing the segment on a children's network was appropriate and complained that the clip was too graphic and "scary" for little ones. Still, the vast majority of responses praised both the media company in general and the network specifically for treating children with enough respect to not shield them from the world around them when it comes to the subject of race and police violence. Probably the best advice for parents came from one Twitter commenter: "If this Nickelodeon commercial scared or confused your child. Tell them this what their fellow classmates and other Black people have felt like for over hundreds of years. Use it as an opportunity for them to 'listen and learn'." Here's a look at the video, followed by the network's tweets regarding going dark on Monday and going social media dark as part of "BlackOut Tuesday".
On Monday, May 25, Floyd, an African-American Minneapolis man, was confronted by police officers over an accusation of using a counterfeit $20 bill at a local market. While details on what happened next are still being pieced together, what we do know is that Floyd was handcuffed and lying face down as police officer Derek Chauvin kept his knee on Floyd's neck for the previously mentioned 8 minutes and 46 seconds. Officers Tou Thao, J. Alexander Kueng, and Thomas K. Lane were the other three officers involved, with Kueng and Lane assisting Chauvin in holding Floyd to the ground and Thao looking on from nearby.
In the week since, protests in cities across the country and around the world have grown as more and more call out the United States' long history of racist violence towards the black community by law enforcement as well as President Trump's threatening, adversarial response to the protests. Familiar faces from across the pop culture landscape have been taking to social media to voice their support, to donate to protest funding and support organizations, and to use their influence to share resources.