Oscars 2019: Kevin Hart Returning? If Ellen DeGeneres Has Anything to Say About It (VIDEO)
Let's just put it out there: the Oscars reps at The Academy of Motion Pictures, Arts, and Sciences (AMPAS) and ABC are probably going on righteously long vacations after the 2019 Academy Awards airs on Sunday, February 24th. The jury is still out on which matter The Academy and network handled worse: let's not forget the sudden inclusion and then tabling of a new category that came across as a cheap attempt at a ratings grab at the expense of the award's integrity.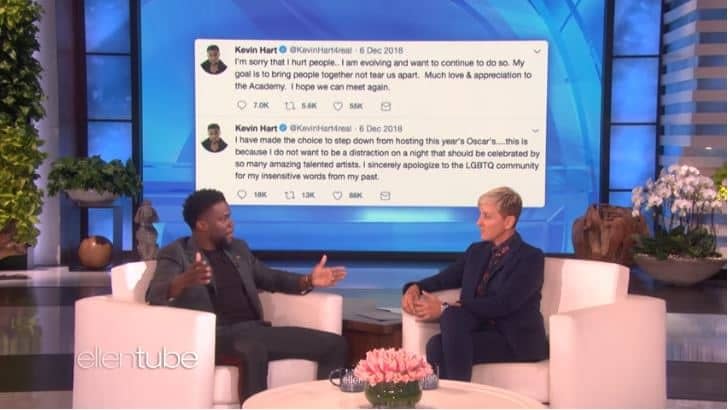 Then there's the matter of actor/comedian Kevin Hart, who in early December 2018 went from hosting the Oscars to not hosting the Oscars to being the subject of fierce social media debates about freedom of speech, responsibility, and how long one should be held accountable for what they post. Shortly after Hart was announced, a number of homophobic social media postings made by Hart nearly 10 year ago surfaced and went viral.
Feeling that he had addressed the matter a number of times in the past and apologized for them, Hart initally refused to step down from hosting duties and took to Instagram to tell The Academy that they were more than welcome to find a new host:
"We feed Internet trolls and we reward them. I'm not going to do it, man. I'm going to be me. I'm going to stand my ground. Regardless, Academy, I'm thankful and appreciative of the opportunity. If it goes away, no harm, no foul."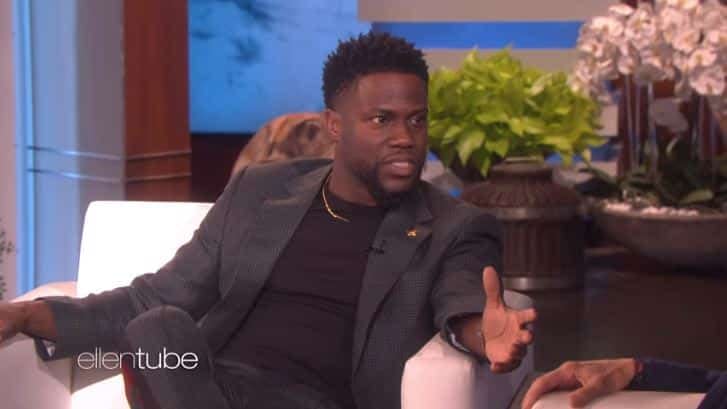 But a day later, Hart would officially step down as host and offer an apology to the LGBTQ community – leaving The Academy and ABC to scramble for a new host, new hosts – or choose to go old-school hostless…
Or consider bringing back Kevin Hart?!?!?
If talk show host and former Oscars host Ellen DeGeneres has anything to say about it, Hart will be on stage and hosting the annual awards ceremony come February – and from the sounds of it, The Academy and Hart might be into the idea, too.
During the Friday edition of her syndicated talk show, DeGeneres revealed that she spoke with representatives from The Academy about reinstating Hart as host – and the reception was far from chilly, with DeGeneres saying the reaction she received was more, "We want him to host, whatever we can do, we would be thrilled, and he should host."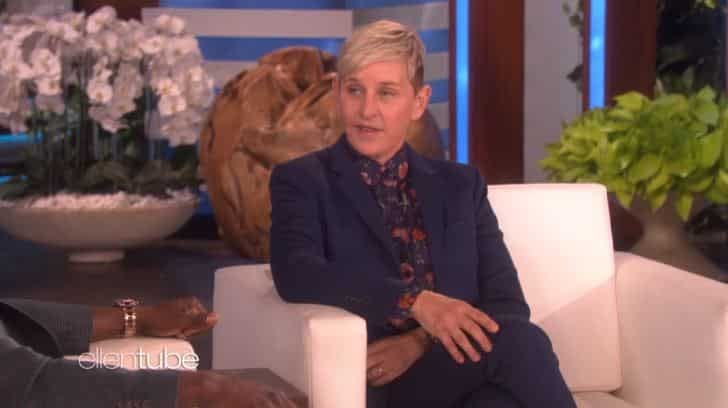 Hart found the entire experience to be "an attack, a malicious attack on my character, to end me" while also acknowledging that the matter could have been handled better by all parties. As for the old tweets, Hart made the case that he has grown as a person since that time and was no longer the "immature comedan" who wrote those posts.
DeGeneres would let Hart escape the issue, even addressing how his decision to not host feeds into the wants and desires of social media trolls:
"They (the haters) will win if you don't host the Oscars. You can't let them destroy you because you have too much talent, and for them to stop you from your dream, from what you want to do, what you have the right to do, what you should be doing… Don't let those people win, host the Oscars… That's why they (The Academy) haven't found another host, because they are secretly hoping that you would come back."
Looks like DeGeneres might have gotten through: before wrapping up the interview, Hart said:
"Leaving here, I promise you I'm evaluating this conversation. Let me assess, just sit in the space and really think, and you and I will talk before anything else."
You can check out DeGeneres' interview with Hart below:
For the first time, Kevin Hart opened up to Ellen about being hired to host the 2019 Oscars, only to step down from the job days later after decade-old controversial tweets surfaced. The comedian explained how he has apologized and why he decided not to stay on as host of the prestigious event.
Ellen told her friend Kevin Hart that she contacted the Academy of Motion Picture Arts and Sciences in an effort to get him re-hired as host of the upcoming Oscars.
After Ellen told her good pal Kevin Hart why she thinks he should take on the gig of 2019 Oscars host again, and that the Academy wants him back, the comedian revealed he will be evaluating their conversation, and will decide whether to take on the job amid his tweet controversy.