The one thing we know for sure is that when the dust settles after the season finale, the next season of Arrow will be short one as Paul Blackthorne (who plays Quentin Lance) leaves the series and signs on to new NBC series The InBetween. Blackthorne has played Lance since the pilot episode in 2012, having an incredible character arc as he has watched his daughter Laurel (Katie Cassidy) and Sara (Caity Lotz) go from being alive to dead to alive to dead to spiritless to alive to being an evil doppelgänger from another Earth. He's also gone from hating Oliver Queen (Stephen Amell) and hunting the hood to being one of Green Arrow's trusted allies and father figures.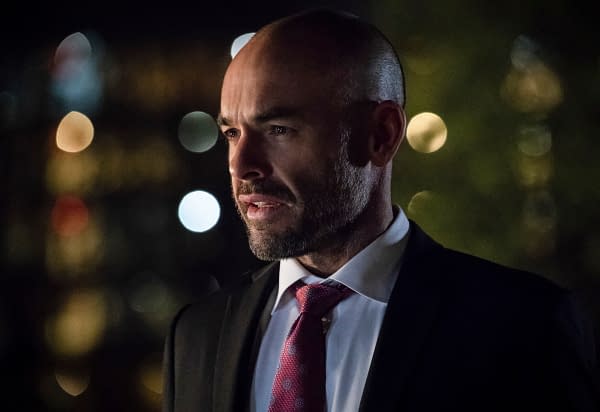 In talking to TVLine about his upcoming exit from Arrow, Blackthorne told them:
It's a beautiful exit, actually. A very nice exit, as exits go!
He also talked about playing opposite an different version of his daughter Laurel:
It was kind of a mind-screw, the whole thing, in terms of who she was, reconciling that new relationship, and him trying to find hope in her and everything that she had gone through and become. All those scenes with Katie [Cassidy], it was a lot of fun. We've had six years of playing all that stuff, and it's been a real, real treat. It's a shame to see that go, but it's wonderful to be in this new place now.
Blackthorne got to try his hand at playing an evil doppelgänger this year too, in the Crisis on Earth-X crossover. The Earth-X version of Lance was a Nazi Commander that served the Black Arrow.
Though he does a great American accent, Blackthorne is English born and got his first film role in the Bollywood project Lagaan: Once Upon a Time in India, for which he spent six months learning Hindi. He appeared on the 10th season of ER with Alex Kingston, who would be cast to play his wife for a few episodes on Arrow. He also appeared on the third season of 24 and the HBO series Deadwood before playing Harry Dresden on the Syfy adaptation of The Dresden Files, which sadly only lasted one season. He would make appearances on Leverage and White Collar along with being a recurring character on Big Shots, Lipstick Jungle, The Gates, and The River before landing the role of Quentin Lance. A role he also played on The Flash and DC's Legends of Tomorrow.
His new project, The InBetween, sees him as police detective Tom Hackett. Hackett calls on his best friend, who has the ability to talk to the dead, in hopes that she can help solve a case. The series will debut in mid-season on NBC.
The Arrow season finale airs Thursday night at 9 p.m. ET on the CW.
Enjoyed this article? Share it!