Perry Mason: Enjoy This "Chapter Five" Preview with a French 75
HBO's Perry Mason and The Educated Barfly have checked their calendars and realized that it's Sunday, so you know what that means? It's time for another cocktail that meets the Prohibition Era setting of the Matthew Rhys (The Americans)-starring series. This time around, it's a French 75, a cocktail made from gin, Champagne, lemon juice, and sugar/simple syrup that was originated by barman Harry MacElhone in 1915 at the New York Bar in Paris (eventually Harry's New York Bar)
Here's a look at how to bring this nectar of the gods to life (with the recipe below), followed by an overview and promo for "Chapter Five":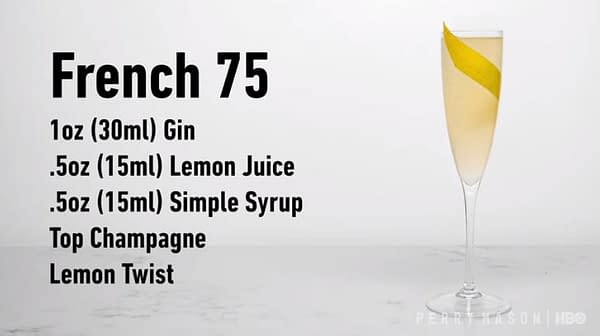 Perry Mason season 1, episode 5 "Chapter Five": While Mason (Matthew Rhys) and Della (Juliet Rylance) run a solemn errand up north, Strickland (Shea Whigham) tracks down the sergeant originally assigned to the Dodson case. Before returning to L.A., Mason drops in on his ex-wife Linda (Gretchen Mol) and son Teddy (Cooper Friedman), hoping to make amends for his recent shortcomings. Disturbed by Emily's (Gayle Rankin) blind faith in Sister Alice (Tatiana Maslany) and her new lawyer, Frank Dillon (Matt Malloy), Della sets out to find Mrs. Dodson more capable legal representation. Written by Eleanor Burgess, and directed by Deniz Gamze Ergüven.
HBO's Perry Mason also stars John Lithgow as Elias Birchard "E.B." Jonathan, a struggling attorney and a semi-regular employer of Mason; Juliet Rylance as Della Street, E.B. Jonathan's creative and driven legal secretary; Tatiana Maslany as Sister Alice McKeegan, the leader of the Radiant Assembly of God, preaching to a hungry congregation and a radio audience across the country; Chris Chalk as Paul Drake, a beat cop with a knack for detective work; and Shea Whigham as Pete Strickland, who is hired by Mason as an extra set of eyes on his various investigations.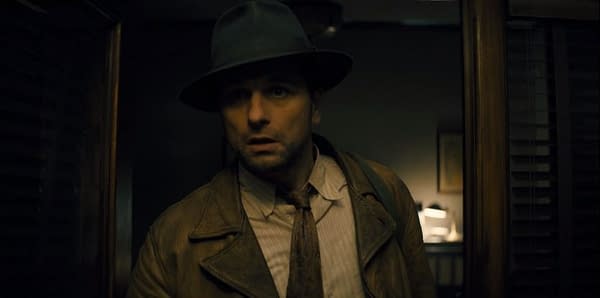 Stephen Root, Gayle Rankin, Nate Corddry, Veronica Falcón, Jefferson Mays, Lili Taylor, Andrew Howard, Eric Lange, and Robert Patrick also star. Executive producers include Amanda Burrell, Robert Downey Jr., Susan Downey, Ron Fitzgerald, Joe Horacek, Rolin Jones, and director Timothy Van Patten. Aida Rodgers co-executive produces, with Matthew Rhys producing. Created by Rolin Jones and Ron Fitzgerald, the series is based on characters created by Erle Stanley Gardner.