Do You Need to Know Physics to Watch Marvel's Agents of SHIELD?
What we know so far going into the final five episodes of Marvel's Agents of SHIELD is that the writers are preparing this as a series ending, even though the decision on its future has yet to be determined/announced. But nothing is worse than having a show end with a cliffhanger and/or unresolved questions. There are too many Marvel fans to let that happen.
I still think the odds are in favor of the show returning because of how well it does once DVR numbers are added, its overseas audience and its place as part of the MCU. And back in January, ABC president Channing Dungey said she was cautiously optimistic for a renewal. Fingers crossed.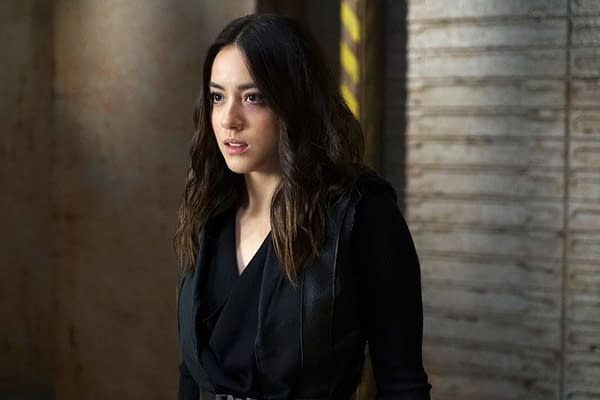 Next week we get the episode 'All Roads Lead…' with the synopsis: "The team must find a way to stop Ruby before the prophesied chain reaction that can destroy the earth is put into motion." Having seen the previews and the look that Talbot is under Hale's control will make the episode interesting, plus the whole Fitz and Simmons can't die thing may be tested… I mean, they're not sure when they change time.
The episode after that, 519, is called 'Option Two' with a synopsis that reads "The team finds themselves trapped and under siege at the Lighthouse." This is likely a continuation of the Talbot storyline as he likely leads Hale and Hydra right to where SHIELD is.
We already knew that episode 520 was called 'The One Who Will Save Us', but the synopsis for it has just been released: "A newly determined Talbot takes Coulson to meet the enemy and attempts to avert Earth's destruction." This clearly indicates that Talbot gets his mind back, or what's left of it.
And that leads us to the recently released title for 521, which is a mathematical equation: 'F = G (m1 x m2) / d2'. That is Newton's equation for gravitational force. It is one of the more popular physics equations. In it 'F' is force and that is equal to 'm1 x m2' or the mass of two objects multiplied and then times 'G', the gravitational constant divided by 'd2' the distance between those two objects. And by that equation, the gravitational force between two objects will increase or decreased based on their distance since the mass of the objects and the gravity are constant, the only real variable factor is the distance. The closer two objects get the stronger the gravitational force — which makes me think that what leads to the destruction of the planet is not Quake or Ruby but rather Quake and Ruby being near each other and perhaps fighting…
Perhaps the key to saving the planet is to keep Daisy and Ruby as far apart as possible.
Marvel's Agents of SHIELD airs Fridays at 9 p.m. ET on ABC.