Is Preacher Season 4 Filming Under Working Title 'Klaus'? Would Herr Starr Approve?
Have the faithful finally gotten a sign? Are we witness to a miracle?
After AMC's third-season finale of Preacher saw Jesse (Dominic Cooper) finally used a little Genesis-flavored "family therapy" to rid himself of The L'Angells once-and-for-all (???) before pairing-up again with Tulip (Ruth Negga) to continue on "The Search for God." Simple enough, right? Except for the fact that Herr Starr (Pip Torrens) has Cassidy (Joseph Gilgun) in custody and is about to unleash all of The Grail upon Jesse and Tulip…and The Saint of Killers (Graham McTavish) and Eugene (Ian Colletti) are "buddy cop'n" their way to our dynamic duo, too…and Hitler (Noah Taylor) is now running Hell with The Angel of Death (Erinn Ruth) by his side…what could go wrong?
One thing: the show not coming back for a fourth season – something even Genesis couldn't fix.
After what's felt like a lifetime of quiet on the "Did AMC renew Preacher yet or not?" front, we might be getting a confirmation that production on season 4 is scheduled to get underway. Entertainment industry production website Production Weekly posted on both their website and Instagram account a post for their most recent issue that included a listing of films/television series at some level of production; with the following highlight: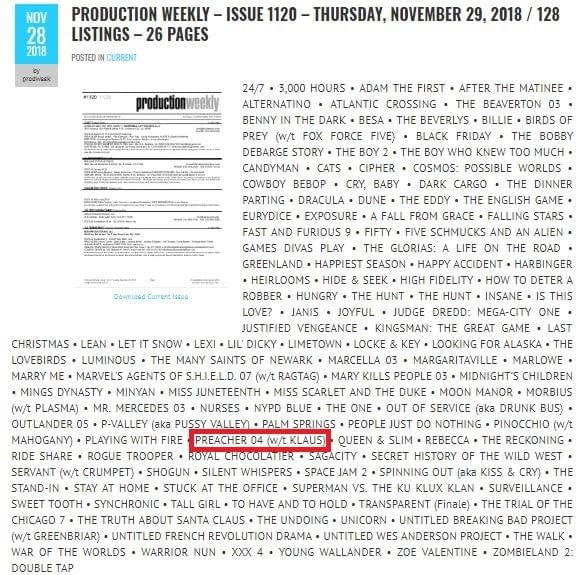 So is Preacher filming it's fourth season under the name "Klaus"? Would Herr Starr feel honored or disgusted? Trick question – he wouldn't care. While not exactly the "smoking chainsaw" evidence fans should take as gospel, the power of doG does work in mysterious ways…
***UPDATE*** Like minds think alike: Bloody Disgusting is thinking the same thing…
PREACHER is a dramatic thrill ride that follows West Texas preacher Jesse Custer (Dominic Cooper), his badass girlfriend Tulip (Academy Award nominee Ruth Negga) and an Irish vampire named Cassidy (Joseph Gilgun) as they embark on a road trip to find God and are thrust into a twisted battle spanning Heaven, Hell and everywhere in between.

The 10-episode third season follows Jesse's quest for God which takes him back to the place he's been avoiding his whole life: home. Jesse, Tulip and Cassidy return to Angelville, the Louisiana Plantation where Jesse was raised, and find old grudges and deadly obligations await them. With the help of his friends — and a few enemies — Jesse will need to escape his past…because the future of the world depends on it.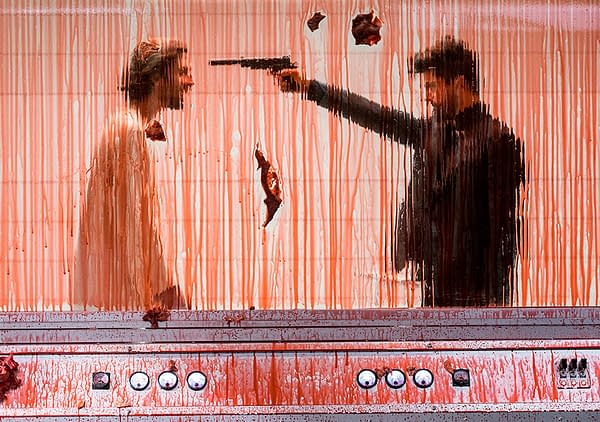 Preacher stars Dominic Cooper, Ruth Negga, Joseph Gilgun, Ian Colletti, Graham McTavish, Pip Torrens, Julie Ann Emery, Malcolm Barrett, and Noah Taylor; joining this season were Betty Buckley (Supergirl, Split), Colin Cunningham (Blood Drive, Falling Skies), Jeremy Childs (The Last Castle, Nashville), Liz McGeever (Star, Nashville), Jonny Coyne (Turn, Alcatraz), Adam Croasdell (Reign), and Prema Cruz (Mozart in the Jungle).