Private Party vs. Best Friends: AEW Double or Nothing Results
Welcome to Bleeding Cool's live coverage of AEW Double or Nothing. I'm your host, Jude Terror. I'm not sure who else will be around tonight. Maybe just me? Hopefully Chad takes the night off. We'll find out as the night goes on.
The Buy-In preshow didn't start until 7:30. I'm not sure if it was always meant to start at that time, but everyone on YouTube seemed confused about it. Finally, Excalibur and Taz welcomed everyone to the show as we got our first look at the set. At every PPV, someone has to be relegated to the pre-show, and tonight, that's Private Party and Best Friends. On the bright side, the winner will get a shot at the AEW Tag Team Championships, so a main card match is a guarantee next time.
Tony Schiavone spoke with Jake The Snake Roberts while Lance Archer demoed a house in the background. Please, AEW, when you get around to that second TNT show, make it an HGTV style home renovation show with these three. Roberts said Archer is ready to do some "mean stuff" tonight.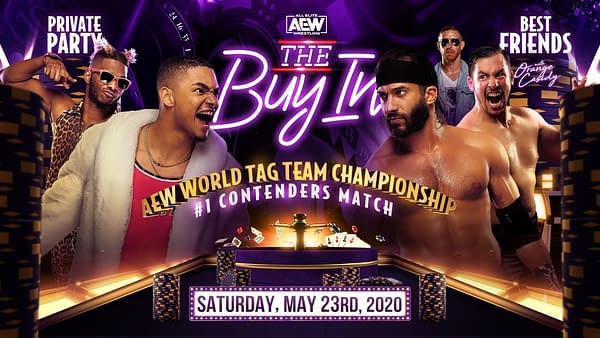 Private Party vs. Best Friends – AEW Double or Nothing Buy-In Pre-Show
Private Party came out first as we got a look at the set. Since it's at Daily's Place, there's not a lot they can do to make it look different than the last few episodes of Dynamite, but there are some giant cards and poker chips on the stage. Best Friends came out next, sans Orange Cassidy, who will be in the Casino Ladder Match later tonight.
Both teams shook hands before the match. Isiah Kassidy and Chuck Taylor started off with some mat wrestling. Taylor and Kassidy both tagged out. Marq Quen started off with a side headlock, then a standing moonsault. But Trent reversed a springboard DDT into a bridging suplex for a 1-count. A chip, and Taylor tagged back in for a double elbow drop. He pushed Quen into the corner and tagged Trent in again. All four men squared off with Private Party hitting a double sliced bread and double clotheslines.
Trent and Kassidy exchanged some chops and Trent took control for another suplex before tossing Kassidy from the ring, but Quen was there for the Silly String, flipping Kassidy back in. Kassidy backed Trent into a neutral corner for a chip and then back to his own corner to tag in Quen. Quen stomped Trent down and then stole his headband. Trent fired up at this and fought back, but Quen took him down and went to the top. Trent rolled under the ropes, so Quen kicked him out of the ring and tagged in Kassidy.
Kassidy tossed Trent into the guardrail, but Trent no-sold it and tackled him. Then Quen hit a running dive and took control again. HE tossed Trent and went to the top, but Best Friends hit an assisted avalanche suplex for a 2-count. Trent tagged out and Taylor took control. A bodyslam and an elbow drop got a 1-count. Taylor backed Kassidy into the Best Friends' corner where they exchanged blows. He hit a suplex on Quen for a 2-count. Tagged back in, Trent slammed Kassidy's head into the neutral corner and hit a running knee, but Quen reversed a swinging DDT and tagged in Kassidy. Kassidy cleaned house and hit a moonsault on Taylor on the outside, then right back in for a flippy move on Trent for a 2-count.
Kassidy tagged in Quen for a tag-team reverse atomic drop and enziguri followed by a foot stomp. Trent hit a suplex on Kassidy and tagged in Taylor, but Taylor ended up double-teamed. Taylor dodged a Quen splash in the corner and then flipped Kassidy over his head into Quen. Double team on Kassidy and a big Best Friends hug.
Kassidy dumped Taylor and then grabbed Taylor and held him to the ground on top of him. Quen climbed on his back and did a standing moonsault. Pretty nuts. Taylor and Quen exchanged blows and Taylor tagged in Trent, but Private Party got the upper hand and did more flippy shit on Trent, ending with a G-9 in tribute to Shad Gaspard. Kassidy hit a slingblade on Trent and Quen went to the top rope for a shooting star press and a two-count as Taylor pulled Quen outside and piledrove him on the floor, then took out Kassidy with a kick. Back in the ring, Trent hit a clothesline on Quen for a 2-count.
Quen hit a step-up enziguri to the ribs on Trent and backed him to the corner. Kassidy tagged in and kicked Taylor off the ropes, then hit a step-up enziguri off his own partner. HE pushed Trent to the top rope and tagged in Quen who went for a Gin and Juice, but Taylor interfered from the outside and Trent Reversed. They hit Strong Zero on Quen for the win.
That was a tough one to keep up with, and it was just the first match! I'm 1-1 on predictions so far though. After the match, Tony Schiavone spoke with Arn Anderson, who was not a fan of Jake Roberts and Lance Archer's HGTV show. Anderson laid out possibilities for the match. Jake could DDT Arn. Arn could spinebuster Jake. Mike Tyson could knock them both out. Anderson says the championship will be decided in the ring. Anderson talked up Archer's record but said Cody Rhodes has guts and touted his family legacy. Cody will start his own legacy tonight when he wins the big one.
Stay tuned to Bleeding Cool as we bring you live coverage of AEW Double or Nothing all night.