Psych 2: Lassie Come Home Scores Big with Mix of Humor & Heart: Review
I know, it's been quite a while since the cast of Psych was on our screens, but luckily this isn't a reunion special brought on by quarantine – this is legit new, pre-corona content! I'm so excited and of course, this is just the first of many watches, but the sequel to 2017's Psych movie, Psych 2: Lassie Come Home, is heartwarming, hilarious, and surprisingly emotionally-charged. Though, I suppose it's not that surprising given that the plot was inspired by Timothy Omundson's recovery from a stroke and marks his first return to acting.
The story does a pretty good job of mirroring the struggles, fears, and family bonds that are a trademark of the characters as well as the cast and crew behind the scenes. If you want more on this, there's a great interview where he talks about what it was like returning to the set of Psych after years of recovery and rehabilitation. But, this is a review, and you should probably be warned that the waters ahead are teeming with MAJOR SPOILERS AHEAD. Sail forth at your own risks, mates.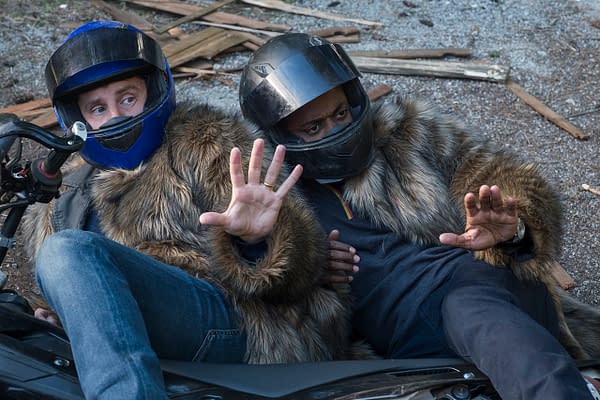 Now that we've gotten the yellow-bellied scallywags out of the way, let's quit talking like pirates and dive into it, shall we? First things first, seeing everyone settled into domestic life is sweet and such an adorable. What's equally adorable is that they waited for Omundson to be ready to return to acting and met him where he was by crafting a story around where he was in his recovery and what he could do. I am a total sucker for any sort of found family – be it on screen or in real life – and the Psych cast and crew has both, and it is the purest thing.
So the story is all about Lassie in a swanky recovery house after being shot during an investigation. He's getting better, but there's something sinister afoot at Herschel House, and Shawn (James Roday Rodriguez) and Gus (Dulé Hill) are still at it with their shenanigans. See, while Lassie is limited, the situation turns all Rear Window and he has a hard time keeping both Juliet (Maggie Lawson) and the dynamic duo off the case…or well, on the case. It's confusing. They want to help him and keep Lassie safe, but Jules has her job to think of and the guys made a promise to their ladies that they wouldn't go snooping around. So that's exactly how they ended up in the horse stables eating ice chips and talking to Dr. Herschel (Richard Schiff), who is hilarious and deadpan. Oh, and as an added bonus, we get a "lady version" of the dynamic duo (of sorts) when Juliet and Gus' girlfriend Selene (Jazmyn Simon, his adorable real-life wife) inadvertently team-up.
Plot aside, the film is filled with good-natured ribbing at the show as well as the actors' current and past work, like ABC's A Million Little Things, which is played as a counter to This is Us (a fact that's used to great comedic effect here at the expense of a slow cooker). The quips and jokes are great, as are the deeply emotional aspects, but what really blew me away was how strong the parental component of the story punches you in the heart. What do I mean? Clearly the relationship between Shawn and Henry (Corbin Bernsen), but now also how the memory of Carlton's father is helping him heal and deal with his new limitations. Added into that is that ending where we find out that Gus is going to be a daddy after Shawn spends the back half of the movie thinking Jules is pregnant and he's on the fast track to "parent-ville" and you've got parental puzzle perfection.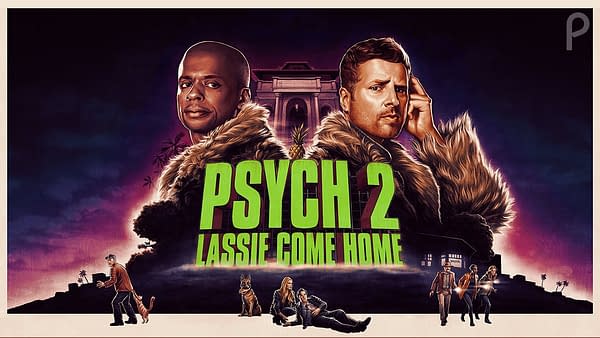 It leaves off at a point where the current mystery is wrapped up for the characters, but it taps into a font of avenues and potential stories for our favorite fake psychic and his friends to navigate. Personally, I thought this was the best iteration of Psych so far, building on the original content while not feeling the need to shoe-horn anything in retroactively or change the characters into something entirely different; the fans love the show as is, and this was just a natural continuation of the characters and their lives. Nobody was pretending to be anything (well, other than the obvious), the series met the actors where they currently are in life and that extended to their characters. They weren't pretending Odmunson didn't have a health crisis or that everyone was still in their mid-twenties. It's a realistic look at the natural progression of these characters, and I hope we get lots more looks at the progression of the world of Psych in the future.