Psych 2 Team Talks Timothy Omundson, Shawn/Gus Shenanigans and More
With Peacock's Psych 2: Lassie Come Home a little more than a month away (that's July 15, so make sure to set your calendars accordingly), series creator Steve Franks, executive producer Chris Henze, and stars James Roday, Dule Hill, Kirsten Nelson, Maggie Lawson, and Corbin Bernsen made their way (virtually) to the ATX Television Festival to tease "PsychOs" on what they can expect. One of the first things Franks acknowledges is the wait, which turned out to be a bit longer than fans expected. While the sequel was finished in 2019, Franks believes that our current environment is a perfect one for something like Psych 2: "The world needs the happiness, joy, and positivity that we do on the show every week. We are really excited there was a build-up to it — we didn't even know there was something called Peacock when we started writing this. And now we are going to carry Peacock on our shoulders and carry it to success!"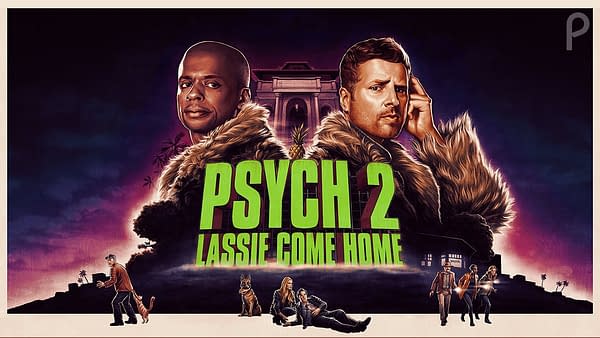 For Henze, having Lassie (Timothy Omundson) be such an integral part of the story was key to the team accomplishing its mission: "giving our core fans everything they expect." While Lawson found reuniting with her on-screen partner a ton more emotional than either of them expected: "Steve gave Tim and I a lot of freedom. At one point he actually said 'be Maggie and Tim in this scene' and neither one of us could get through it because we were both so emotional. He's so good in this movie and all of us were very present in it from the very beginning. For me, it felt like our family was whole again." For Hill, Omundson's presence on set was what made the Psych project feel like it was Psych: "The moment Tim actually walked on the set, that was a moment I will never forget… it was an absolute joy. There was a hole when we were doing the first [movie]. As much fun as we had doing it, Tim wasn't there — and it's not Psych without Lassie."
As for Shawn (Roday) and Gus'(Hill) exploits this go-around, Roday has one word to describe it: "Shenanigans — the word itself covers the spectrum, doesn't it?. They find themselves where they wear things that are ridiculous; they'll be on the run from bad guys; make jokes at inappropriate times and a couple of life-affirming moments will land on their head." But if Franks has his way, Shawn and Gus' shenanigans will soon evolve into more epic, summer blockbuster-like levels. Though he jokingly admits that the show's fanbase may not be on the same level of a certain popular racing franchise: "Obviously, we don't quite have the fanbase that Fast and Furious has." Still, Henze has big idea in mind, joking, "We are in talks for Psych: The Ride at Universal Studios."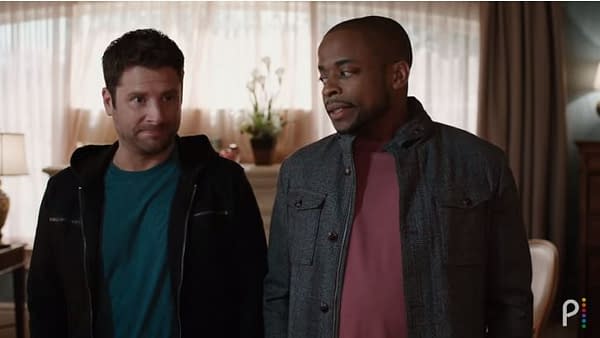 Here's a Look at Psych 2: Lassie Come Home
Psych 2: Lassie Come Home reunites the cast once again when Santa Barbara Police Chief Carlton Lassiter (Omundson) is ambushed on the job and left for dead. In a vintage Psych-style Hitchcockian nod, he begins to see impossible happenings around his recovery clinic. Shawn and Gus return to Lassie's side in Santa Barbara and are forced to navigate the personal, the professional, and possibly the supernatural. Separated from their new lives in San Francisco, our heroes find themselves unwelcome in their old stomping grounds as they secretly untangle a twisted case without the benefit of the police, their loved ones, or the quality sourdough bakeries of the Bay Area. What they uncover will change the course of their relationships forever.
Co-written with Roday, Andy Berman, and director/executive producer/Psych creator Steve Franks, Psych 2: Lassie Come Home also stars original cast members Maggie Lawson, Kirsten Nelson, and Corbin Bernsen. Joining the cast Joel McHale (Stargirl), Jimmi Simpson (It's Always Sunny in Philadelphia), Sarah Chalke (Scrubs, Rick and Morty), Kadeem Hardison (A Different World, Black Monday), Allison Miller (A Million Little Things, 13 Reasons Why), and Richard Schiff (The West Wing). Psych 2: Lassie Come Home is also executive produced by Roday, Hill, and Chris Henze of Thruline. UCP will produce in association with Thruline Entertainment.